I had heard rave reviews of Good Vibes from my friends and fellow bloggers, but I was yet to try them out. Fortunately, my sister-in-law gifted me the products from Good Vibes brand and I was ecstatic to try them.
I had received the products in March and it's been 3 months am using it. Did it work well on my oily skin? Read on to know my review.
About the brand: GOOD VIBES
Good vibes are made from nature and connect with the natural goodness of India. They provide an array of solutions for our personal care to rejuvenate our skin, hair & body.
No Alcohol | No Parabens | No Sulphates | Cruelty-Free
Good Vibes Skincare Products
They have a wide range of products to select from the skincare range. Aforementioned, I had received three products from my sister-in-law and sharing my experience accordingly.
*Note: Kindly do a patch test before using any new product.
1) Good Vibes Pomegranate Brightening Scrub
Pomegranate is rich in Vitamin C which is good for skin health as it helps in brightening the skin, removing dark spots, and has anti-aging effects.
This product contains pomegranate which is an excellent ingredient for rejuvenating dull and dry skin. It is suitable for all skin types.

Ingredients
My experience: I use this scrub twice a week and it gently exfoliates my skin. The pomegranate fragrance is soothing and the granules are soft on the skin. It worked well on clearing clogged pores and made my face squeaky clean.
After the wash, my face felt refreshed and rejuvenated. I had few acne spots and it helped in diminishing the marks.
As far the brightness of skin is concerned, no it doesn't make the skin glow or brighten but yes it removes impurities & dirt. Hence the skin is clear with every usage.
*MRP: Rs195 for 50g




Rating: 3.5 out of 5.
I liked this scrub and it worked well on my oily acne-prone skin. Therefore, I will recommend this product as it fulfills most of its claims.
2) Good Vibes Charcoal Peel-off Mask
I have used a charcoal peel-off mask from other brands and I must say this charcoal mask from Good Vibes is the best.
This peel-off mask is enriched with potent charcoal that helps to unclog the pores, remove blackheads, dirt, dust, and grime from the skin. It helps in exfoliating dead skin and aids in improving complexion.

Ingredients
My experience: I use this peel-off mask once in two weeks and my main purpose of using this mask is to remove blackheads and clear the pores. The mask is neither thick nor slender, in between is its consistency.
When I apply it to my face, the skin feels cool which I liked a lot. I apply it all over the face except the lip and eye area. I leave it for 15-20mins till it gets dry and then remove it. 
It gets easily peeled off without any effort and makes my skin looks clear. I can see whiteheads on the mask when I remove it which makes me a satisfied and happy customer.
I am using it for 3months and yet it hasn't got dried, unlike the other brand charcoal mask which used to get dried after some period. So this makes this charcoal mask an impressive product.
*MRP: Rs249 for 100g





Rating: 4.5 out of 5.
This charcoal mask has given me effective results by removing blackheads, dirt and leaving clear, smooth skin. Therefore, I would highly recommend this charcoal peel-off mask to those who are looking for clear skin.
3) Good Vibes Mulberry Toner
I use toner as a part of my night skincare routine. I apply toner after washing my face, followed by night cream and moisturizer.
This mulberry toner is rich in Vitamin C that prevents anti-aging and fine lines. It instantly refreshes skin and balances skin pH levels.
The other key ingredients are:
Liquorice: known for brightening skin

Honey: nourishment of skin

Hibiscus: Calm skin

Pomegranate: fights signs of aging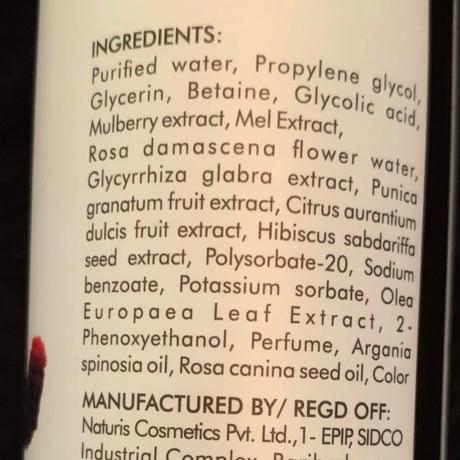 Ingredients
My experience: Toners plays an important role in skincare routine as it protects the skin from dirt and oil from entering the skin, minimizes the appearance of visible pores thereby preventing acne and other skin problems.
I use good vibes toner daily at night, but as the temperature has risen in the capital, some days I use it often to refresh my face. I spray it directly to my face and it gives a refreshing & calming effect. The mulberry fragrance is soothing and elevates my mood.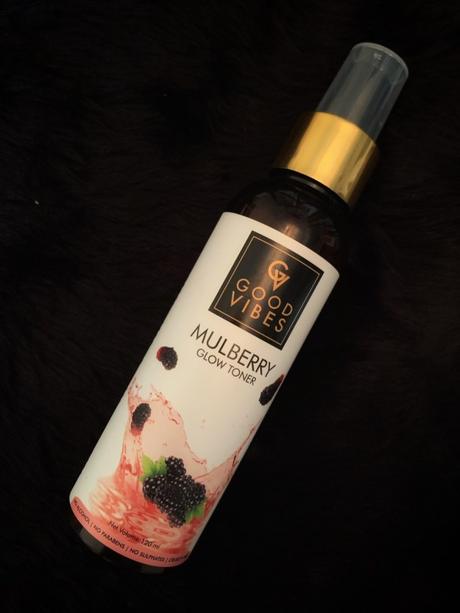 *MRP: Rs195 for 120ml




Rating: 3.5 out of 5.
This mulberry face toner does what it claims i.e refreshes skin, reduces zits, unclogs pores, and provides hydration. Therefore I would recommend this toner to try and add to your skincare routine.
Final Thoughts
All three Good Vibes products were effective and satisfactory. The products are natural and safe, free from harmful chemicals.
The charcoal peel-off mask is one of the good vibes best products because of its results and premium quality.
The products are suitable for all skin types and the prices are reasonable. So try them if you are looking for budget-friendly skincare products.
Let me know if you have tried any product from Good Vibes and do share your experience in the comments section below.
PIN THIS POST!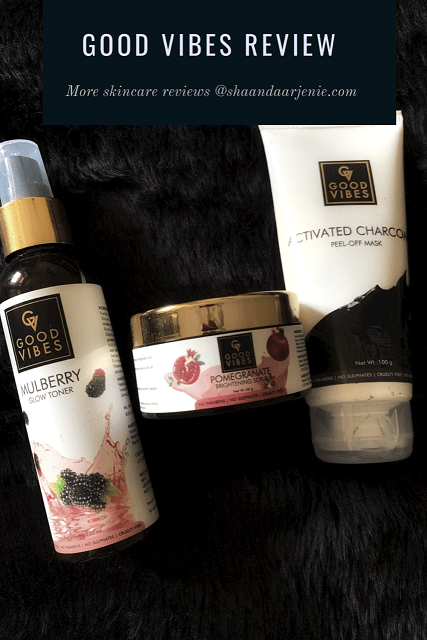 YOU MAY ALSO LIKE TO READ:
Deyga Organics Skincare Products: Pure | Handcrafted | Natural
Sand & Sky Australian Pink Clay Review: Is it effective on Indian skin?
Wow Skin Science AM2PM & Anti-Pollution Sunscreen Lotion: Review