And I sit here and wonder whether they remember it at all themselves.  I hope they do.
Sippican Cottagge brings us the following video in a post they so aptly titled "When You're A Dad, Every Day Is The Best Day Ever, Until Tomorrow".  It took me back to a time when both my boys were very young, a time when my wife worked second shift, a time when I spent evenings doing things like what you're about to see, times I treasure now, times that give birth to an emotion of longing and reminiscing that are incredibly strong, even overwhelming.
I particularly remember the laughter of my oldest one afternoon, laughter the result of my acting silly with a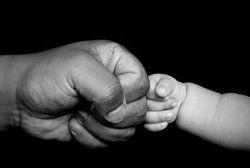 small ball.  I'd place it entirely in my mouth, then blow it out as far as I could and he would erupt.  Somewhere in the house is an old casette recording I made of his laughter.  We did this over and over again that afternoon and it's a memory I'll always cherish. 
And I sit here now and recall my youngest son on the mound in Little League years later, looking to me in between pitches for assurance, for some sign that I approved of his performance... and I did, I still do. 
The heart swells.  We grow older, and apart, way too quickly.
With news out there about kids wishing for fathers for Christmas, I find what this father did particularly beautiful and meaningful and a reminder that times like these are short and should be treasured. 
This father seems to be doing just that: