The "Story" of My Life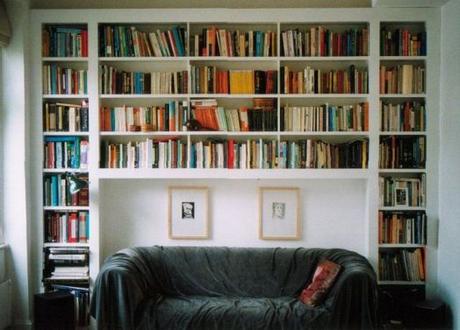 Books! We have books!
Many people have asked me how I acquired my knowledge of opera, theater, film, history, pop music, and the like. Well, it helps to have a natural curiosity about the world around you. And knowing that not every individual we encounter can be as enthusiastic as you are about a subject, I made up my mind early on to satisfy my hunger for the things I enjoyed the most.
In one respect, I have been privileged to see plenty of staged opera over the course of my life, and to listen to boatloads of music from every conceivable genre. In another, I consider myself fortunate to have watched a ton of old movies almost from the time I was a child. I had my father to thank for the eclecticism, but for expanding my initial knowledge base? Ah, for that I turned to books.
I was — and continue to be — an avid reader of books. I visited the neighborhood library as often as time and opportunity would allow. Unfortunately, our local branch at Clason's Point, in the Soundview section of the Bronx, was small and nondescript in comparison to other branches. Since it did not have as wide an assortment of reading material as one would have liked, I was forced to walk several miles to the Parkchester Branch. Now there was a library! Its collection of opera librettos alone was enough to sate the tastes of this inquisitive music lover.
It helped, too, that my older cousins owned a complete set of the Encyclopedia Britannica, which I was allowed to utilize whenever the occasion arose. But for the most part, my brother and I depended upon the facilities of the city's library system.
For a short time, our family lived in midtown Manhattan. It didn't take long for me to learn that the main branch of the New York Public Library, only a brisk 15-20 minute walk from our home, had an enviable music, opera, and film collection. However, I did not take advantage of this treasure trove until I started high school, and especially during my college years when primary sources were valued above all others.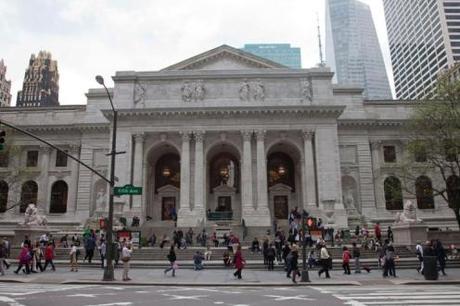 New York Public Library in midtown Manhattan
I did not start to purchase my own books until I had earned enough money from summer jobs and full-time employment. Remember, there was no Internet or Web-based services to rely on at that time. We did have plenty of magazines, newspapers, and periodicals — all good sources of reference material, but again, you had to frequent the public library in order to have access to them.
Another essential resource for the inveterate researcher was the microfiche section of the main branch in midtown. This proved invaluable to me and to other students in writing term papers, and for doing independent examination into other subjects, including complete opera recordings.
By my early 20s, my exposure to live opera at the Metropolitan Opera and New York City Opera in Lincoln Center, along with regular excursions to Broadway and its fabled theater district, made it easier to take pleasure in the performing arts in ways I had never anticipated. The thrill of live engagements made everything I read about opera, film, and theater come to life.
Soon afterwards, I began the serious task of collecting books and records — dozens of books by my favorite authors (mostly fiction, but some non-fiction), and hundreds upon hundreds of recordings of classical compositions, pop-rock groups, individual artists, musicians, singers, and, of course, opera.
With marriage and eventual fatherhood looming, my priorities changed — drastically. By then, I was more into childcare and do-it-yourself, how-to-fix-it guides. As you might imagine, children's books became a major fixation, with titles ranging from Margaret Wise Brown's Goodnight Moon, the Little Golden Book series, Richard Scarry's Best Word Book Ever, and Shel Silverstein's Falling Up and Where the Sidewalk Ends, to Dr. Seuss (ABC: An Amazing Alphabet Book, One Fish Two Fish Red Fish Blue Fish, If I Ran the Zoo, and Green Eggs and Ham), and Else Holmelund Minarik and Maurice Sendak's Little Bear.
With my daughters grown, in time I reverted to my old habit of acquiring books about movies, music, theater, and opera, in addition to a wealth of related material culled from the publications Opera News, Stereo Review, Sound and Vision, Film Comment, Cineaste, Stereophile, Starlog, Cinéfantastique, The Absolute Sound, The Perfect Vision, and numerous others. While I was never a high-end audiovisual buff — that would have required a financial outlay I was ill-equipped to afford — I did share many of the amateur enthusiast's traits.
For instance, I owned a stereo VCR and an exceedingly modest Dolby™ Pro-Logic Surround Sound system, with the requisite array of speakers and subwoofer. Eventually, I was able to acquire a widescreen, high-definition television set to match the sound equipment, with a reasonably priced Blu-ray Disc/DVD player thrown in for good measure.
But my main acquisitions during the past few years have been books. Readers may be surprised, as I surely was, at the sheer volume of material one can gather from videos, DVDs, old LP-recordings, and complete opera albums and cassettes. The accompanying booklets and inserts that were customarily packaged with these various formats provided, more often than not, additional background information, as well as the standard biographical data and scholarly essays (the Criterion Collection is especially noteworthy for this practice) that serve to further enlighten the subject at hand.
It's my honest opinion, then, that every home should have its own personal reference library. Yes, I know that most people reach for their iPhone, GPS, or other Smartphone-like device to hunt for facts, figures, dates, directions, and so forth. That's fine in a pinch. However, when you're looking for some relaxation, there's nothing like the tactile feel of a good book; of leafing through its pages or rummaging around the index section (remember that?). It's the equivalent of hitting the Search function on your CD player or satellite radio receiver. No, it's better! And you can do it for the heck of it, if for no other reason.
That's the satisfaction I get from books, something no Kindle or Web-based gadget can gratify or replace. When I'm at a loss for information to supplement my weekly blog postings, I spend a little quality time probing through the items on my bookshelves.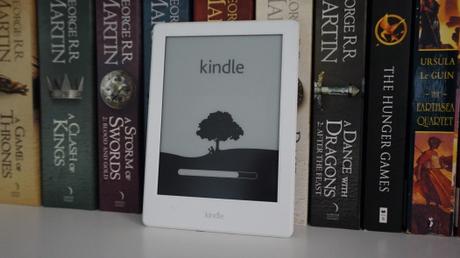 The ever-popular Amazon Kindle
Over the years — due mostly to the number of times my family and I have had to move from place to place — I gave away or dispensed with books that, today, I would give my right arm to own. Still, I've been able to keep a good number of meaningful materials handy.
To give readers a glimpse into what some of this material might be, here's a brief rundown of the many subjects and texts I consult with on a normal basis in researching a piece I have in mind. In the next installment of this post, I will discuss some of the items on my list in more detail:
——————————————————————————————–
The March of Time — History and Art Books
Art History, Volumes One and Two: A View of the West – Marilyn Stokstad
The Romantic Rebellion: Romantic versus Classic Art – Kenneth Clark
Holy Warriors: A Modern History of the Crusades – Jonathan Philips
Beyond the Myth: The Story of Joan of Arc – Polly Schoyer Brooks
Portraits of the Artist: The Self-Portrait in Painting – Pascal Bonafoux
Van Gogh: A Documentary Biography – A.M. and Renilde Hammacher
Defying Gravity: Contemporary Art and Flight – Huston Paschal and Linda Johnson Dougherty
The Art of Osamu Tezuka: The God of Manga – Helen McCarthy
The Geronimo Campaign – Odie B. Faulk
Completely MAD: A History of the Comic Book and Magazine – Maria Reidelbach
Bury My Heat at Wounded Knee – Dee Brown
Dali… Dali… Dali… — Max Gérard
The Rest is Noise: Listening to the Twentieth Century – Alex Ross
——————————————————————————————–
The Lives that Matter — Biographies
Toscanini: Musician of Conscience – Harvey Sachs
John Wayne: The Life and the Legend – Scott Eyman
Alexander Hamilton – Ron Chernow
Bogart – A.M. Sperber and Eric Lax
George, Nicholas and Wilhelm: Three Royal Cousins and the Road to World War I – Miranda Carter
Walt Disney: The Triumph of the American Imagination – Neal Gabler
An Empire of Their Own: How the Jews Invented Hollywood – Neal Gabler
The Dark Side of Genius: The Life of Alfred Hitchcock – Donald Spoto
Nightmare of Ecstasy: The Life and Art of Edward D. Wood Jr. – Rudolph Grey
Orson Welles: The Road to Xanadu – Simon Callow
Orson Welles: Hello Americans – Simon Callow
Orson Welles: One-Man Band – Simon Callow
——————————————————————————————–
We Heard It through the Grapevine — Pop/Rock Music
The Beatles on Record – J.P. Russell
Beatlesongs – William J. Dowlding
The Beatles Illustrated Lyrics – Edited by Alan Aldridge
The Story of Rock: Smash Hits and Superstars – Alan Dister
The Story of Jazz: Bop and Beyond – Franck Bergerot and Arnaud Merlin
Rock 'N' Roll on Compact Disc: A Critical Guide to the Best Recordings – David Prakel
All Music Guide: The Best CDs, Albums and Tapes – Edited by Michael Erlewine and Scott Bultman
The Rolling Stone Album Guide – Edited by Anthony DeCurtis and James Henke, with Holly George-Warren
Musicophilia: Tales of Music and the Brain – Oliver Sacks
——————————————————————————————–
And the Curtain Falls: Opera
Madama Butterfly 1904-2004 (Ricordi Edition): Opera at an Exhibition – Essays by Julian Budden, Vittoria Crespi Morbio, Maria Pia Ferraris
Opera on Record 1, 2 and 3 – Edited by Alan Blyth
Tito Gobbi on His World of Italian Opera – Tito Gobbi and Ida Cook
Wagner without Fear – William Berger
Verdi with a Vengeance – William Berger
Puccini without Excuses – William Berger
Puccini: A Critical Biography (Second Edition) – Mosco Carner
Puccini: The Man and His Music – William Weaver
Verdi: A Biography – Mary Jane Phillips-Matz
Verdi: The Man and His Music – Paul Hume
Wagner: The Man and His Music – John Culshaw
The Letters of Giacomo Puccini: Mainly Connected with the Composition and Production of His Operas – Edited by Giuseppe Adami
Puccini Among Friends – Vincent Seligman
Opera Lover's Companion – Edited by Mary Ellis Peltz
——————————————————————————————–
Hooray for Hollywood — Movies and TV Studios
The Wes Anderson Collection – Matt Zoller Seitz interviews Wes Anderson
The Grand Budapest Hotel: The Wes Anderson Collection – Matt Zoller Seitz interviews Wes Anderson, Ralph Fiennes, Alexandre Desplat, Robert Yeoman, and the crew of the hit film
The Girl in the Hairy Paw: A Documentary Study of King Kong – Edited by Ronald Gottesman and Harry Geduld
Character People – Ken D. Jones, Arthur F. McClure, Alfred E. Twomey
The Making of 2001: A Space Odyssey – Martin Scorsese (series editor), introduction by Jay Cocks
More Character People – Arthur F. McClure, Alfred E. Twomey, Ken Jones
The Film Studies Dictionary – Steve Blandford, Barry Keith Grant, Jim Hillier
The Art of Alfred Hitchcock – Donald Spoto
The Godfather Companion – Peter Biskind
The Films of the Bowery Boys: A Pictorial History of the Dead End Kids – David Hayes and Brent Walker
Leonard Maltin's 2014 Film Guide — Leonard Maltin, Editor
Of Mice and Magic: A History of American Animated Cartoons — Leonard Maltin
Crime Movies: An Illustrated History of the Gangster Genre from D.W. Griffith to Pulp Fiction – Carlos Clarens, updated by Foster Hirsch
An Illustrated History of the Horror Film – Carlos Clarens
Sci-Fi Chronicles: A Visual History of the Galaxy's Greatest Science Fiction – Guy Haley, General Editor
The New Biographical Dictionary of Film – David Thomson
Flickering Empire: How Chicago Invented the U.S. Film Industry – Michael Glover Smith and Adam Selzer
The Invisible Art of Film Music: A Comprehensive History – Laurence E. MacDonald
Pictures at a Revolution: Five Movies and the Birth of the New Hollywood – Mark Harris
Amazing 3-D – Hal Morgan and Dan Symmes
Lawrence of Arabia: The 30th Anniversary Pictorial History – L. Robert Morris and Lawrence Raskin
Bram Stoker's Dracula: The Film and the Legend – Francis Ford Coppola and James V. Hart, edited by Diana Landau
The Films of Charlton Heston – Jeff Rovin
The Films of Errol Flynn – Tony Thomas, Rudy Behlmer and Clifford McCarty
Dances With Wolves: The Illustrated Story of the Epic Film – Kevin Costner, Michael Blake, Jim Wilson, edited by Diana Landau
George Lucas: The Creative Impulse (Special Abridged Version) – Charles Champlin
The Stories Behind the Scenes of the Great Film Epics – Mike Munn
Napoleon: Abel Gance's Classic Film – Kevin Brownlow
Scarlett, Rhett, and a Cast of Thousands: The Filming of Gone With the Wind – Roland Flamiani
The Film Encyclopedia – Ephraim Katz
The Screenwriter's Bible: A Complete Guide to Writing, Formatting, and Selling Your Script – David Trottier
Film Art: An Introduction – David Bordwell, Kristin Thompson
Mars Attacks! The Art of the Movie – Karen R. Jones
All You Need to Know about the Movie and TV Business – Gail Resnik and Scott Trost
Sound and Vision: 60 Years of Motion Picture Soundtracks – Jon Burlingame
Past Imperfect: History According to the Movies – Edited by Mark C. Carnes
——————————————————————————————–
Give Us a Smile — Photographic Essays
Imagine: John Lennon – Andrew Solt and Sam Egan
Hollywood Glamour Portraits: 145 Photos of Stars 1926-1949 – Edited by John Kobal
The Image Makers: Sixty Years of Hollywood Glamour – Text by Paul Trent
Move-Star Portraits of the Forties: 163 Glamour Photos – Edited by John Kobal
Film-Star Portraits of the Fifties: 163 Glamour Photos – Edited by John Kobal
New York Civic Sculpture: A Pictorial Guide – Frederick Fried and Edmund V. Gillon Jr.
The Circle of Life: Rituals from the Human Family Album – Edited by David Cohen
The Southern Journey of Alan Lomax: Words, Photographs, and Music – Tom Piazza
——————————————————————————————–
Broadway Melody — Theater
Producing Theatre: A Comprehensive and Legal Business Guide – Donald C. Farber
From Option to Opening: A Guide to Producing Plays Off-Broadway – Donald C. Farber
The Staging of the Self: Gerald Thomas — Silvia Fernandes and J. Guinsburg
Nothing Proves Nothing! — Gerald Thomas
Showtime: A History of the Broadway Musical Theater – Larry Stempel
On My Way: The Untold Story of Rouben Mamoulian, George Gershwin and Porgy and Bess – Joseph Horowitz
How Plays Work – David Edgar
——————————————————————————————–
Bye-Bye, Brazil — Country of My Birth
A History of Brazilian Popular Music – Jairo Severiano
Tropical Truth: A Story of Music and Revolution in Brazil – Caetano Veloso
The Brazilians – Joseph A. Page
Songbook (Cancioneiro) Vinicius de Moraes: Orfeu – Sergio Augusto (Text), Paulo Jobim (Musical Coordinator)
The History of Music in Brazil – Vasco Mariz
Mario Reis: The Best of Samba – Luis Antonio Giron
Noel Rosa: A Biography – João Maximo and Carlos Didier
Carmen Miranda: A Biography – Ruy Castro
Brazilian Bombshell: The Biography of Carmen Miranda – Martha Gil-Montero
The Night of My Beloved: The History and Stories of Samba-Canção – Ruy Castro
Bossa Nova: The Story of the Brazilian Music that Seduced the World – Ruy Castro
Futebol: The Brazilian Way of Life – Alex Bellos
Bossa Nova and the Rise of Brazilian Music in the 1960s – Gilles Peterson and Stuart Baker
——————————————————————————————–
(End of Part One)
To be continued….
Copyright © 2017 by Josmar F. Lopes
Advertisements