Hey blog, long time no see. Between loads of meetings at work that required boring suits and very little weekend fun due to the arm injury, I haven't had any outfits worth documenting. But today, I managed to put on something vaguely interesting, throw on some new (to me) jewelry, and even style my hair. Woohoo!
Since I've been avoiding the real world and its ability to make my arm hurt, I've taken up a new hobby: scouring Etsy for vintage jewelry. My favorites list is out of control. I cannot stop myself from looking for beaded bracelets, rhinestone necklaces, and dramatic earrings. In fact, I've put myself on a jewelry moratorium for the next few weeks. Then again, I also put myself on a white bread moratorium and my morning croissant was delicious and oh-so white. Self-control is a pain in the butt, man. Maybe I should declare a moratorium on self-control.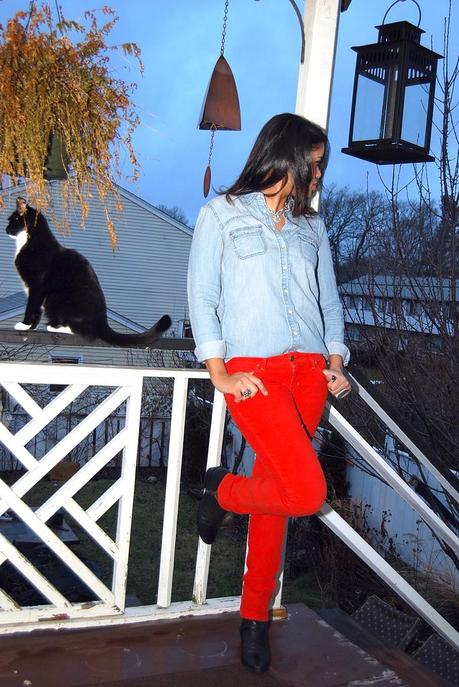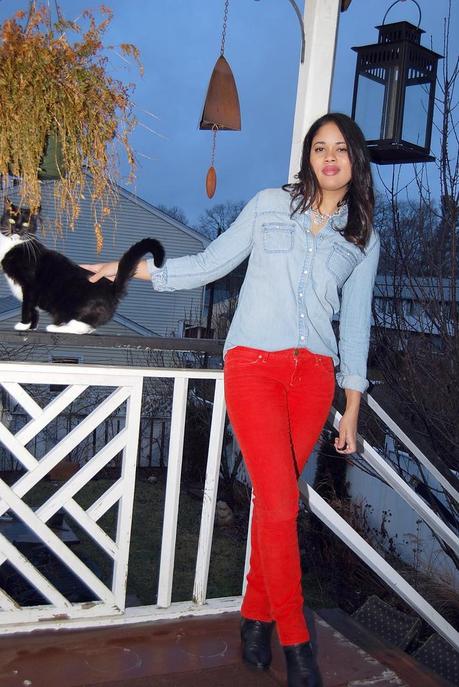 You know, based on these pictures, you'd never guess Chloe cat is painfully shy and scared of everyone. She's such a camera hog!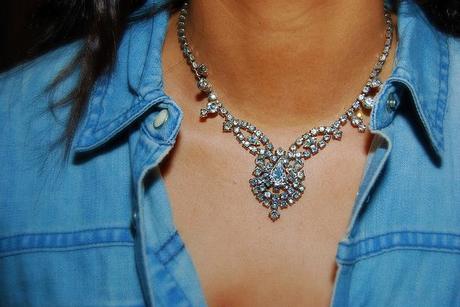 And a close-up of my necklace, which you might have seen on twitter or instagram yesterday. It's so detailed and sparkly that it needs something like distressed denim to make it wearable.
shirt- Martin & Osa
pants- Gap
boots- Sam Edelman
necklace- vintage from Etsy
Share/Bookmark