Apple's iPad 2 is currently the undisputed tablet king on planet and apple was planning and is now ready to take to next level,Apple is sending out invites for march 7 event in which they are going to announce next generation tablet termed as iPad 3.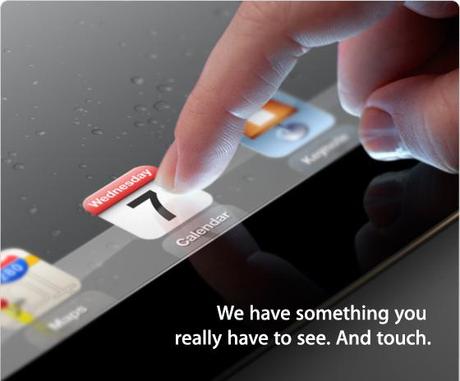 The Invite sented by Apple have the following wordings "We have something you really have to see. And touch".
This launch date it self was an hot issue over the months,some previous rumors which stated that iPad 3 will be launched in early days of march, iPad 3 is likely to include highly anticipated Retina Display which is now a standard on iPhone and iPod Touch.
The iPad 2 rear shell measures in at 8.69 mm thick while the iPad 3 part comes in at 9.50 mm, a difference of 0.81 mm.iPad 3 will come in 9% thicker than the iPad 2
Apple is going to hold this event next Wednesday at 10am in San Francisco. and it is also rumored that it will include quad core processor along with 4G-LTE Technology.
according to the sources, two models will be launched, one having the same size as iPad2, while other one will be smaller around 7 inches.
According to CNBC
Apple shares topped $530, hitting an all-time high after reports the tech giant will unveil a quad-core iPad 3 with 4G LTE technology in New York next week.
If launched with rumored A6 quad core chip, then iPad3 will be the first quad core tablet, while we have already seen some quad core smartphones. The price of iPad 3 price will be around $579.
Whatever Apple is going to launch we have one thing for sure that you are about to witness yet another long queues if people waiting for their next iPad outside apple stores.