I had the most amazing night with my friends and I'm so happy I was able to spend some time with them. Though my visit was unfortunately cut short it was still a lot of fun.
One girl made me one of those wish bracelets out of a thin yarn. The point is to make a wish once it's put on, and when the bracelet falls off by itself your wish is supposed to come true. Obviously it isn't real, but a little fantasy is fun sometimes. I chose royal blue, sheer pink, a minty green and dark purple. It was like being in elementary school again; excited little ten-year-olds bouncing off the walls, yelling about the colours and style they wanted.
Once in a while, it's nice to eat outside despite the disgusting bugs and barking dogs. Long after the sun went down and the barbecue was turned off, we just sat around and laughed at the stupidest things. Neighbors turned their heads and parents were starting to lose it, but what else are teenagers going to do on a Saturday night in July?
If a shoe with the ability to camouflage in your front yard isn't enough to catch your attention, I don't know what can. The shoe of the weekend is the whimsical platform thong sandal with AstroTurf insole and plastic chrysanthemum by Beth Levine in 1966.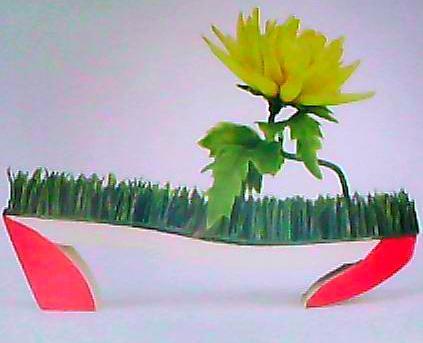 I went shopping with my mom during the afternoon yesterday. In the span of just three very rushed, very hot hours, we made it to Carrefour Laval and Place Versailles for a few essentials before the real shopping trips kick in next week.
She wanted sunglasses from BCBG but once we got there and tried them on, she felt like Johnny Depp when he was playing Willy Wonka. Anyway, the clothes in that store are just so beautiful it's unreal. Seeing pictures online just doesn't compare to seeing collections in person. I was sort of useless because while my mom was testing out the eye wear, I was simply and silently gawking over all things python. And the blazers. The accessories. The shoes. The rompers, the jumpsuits. 
How can I explain this properly? Picture this:
You found a golden ticket. You are going to a chocolate factory, where everything is eatable. You have the appetite of Augustus Gloop. You reach out for some sugary blades of grass to be chased down by some fluffy waterfall-mixed chocolate, and in that moment you remember that you're on the Atkins diet. Oops!
Have a great rest of the weekend, my lazy Sunday has only just begun.
XOXO,
Nina