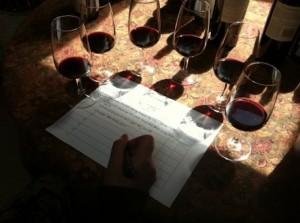 The Wine Wench® Fall/Winter Tasting Schedule – 2014
After a bit of a break, I'm back to reviewing wines on a weekly basis. My consulting business is ticking along nicely and it's time to get back to tasting and reviewing wines!
If you'd like to submit your wines, this is a no-risk proposition, because I never say anything bad. If a wine doesn't meet my standards, I simply won't write about it. My mom taught me, "if you can't say anything once, don't say anything at all." That's my wine reviewing tenet.
Reviewing wines is something I really enjoy doing and have done for many years. I gather my three or four of my favorite wine professionals, bag up the wines (all wines are tasted blind) set up the glasses and away we go!  If you were a fly on the wall at these tastings, you'd laugh your ass, er, wings off – they are a lot of fun and tend to get rather raunchy.
10/10/12: Zinfandel
10/17/12: Syrah
10/24/14: Tricks or Sweets for Halloween (Sweet Wines)
10/31/14: Bordeaux Style Reds
11/7/14: Rhone Style Reds
11/14/14: Wines for Thanksgiving
11/21/14: Rosé
11/28/14: Chardonnay
12/5/14: Pinot Noir
12/12/14: Holiday Wines
12/19/14: Bubbles
12/26/14: Good Deals for the New Year (Priced under $20)
Dates posted are actual tasting dates. Please submit your samples a few days in advance. Thanks!
SCHEDULE SUBJECT TO CHANGE
Email  [email protected] for sample submission guidelines.
Cheers!
Sue