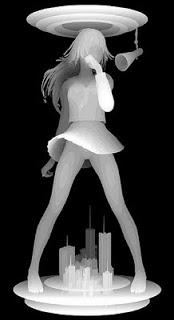 (c) Kazuki Takamatsu
it's true, my waking life is so creatively unrewarding since I finished the War World vs Free Planet trilogies
I mean, I realize I'm supposed to be a) completing the first book of Lorien Howell's children/'s book series "The Dream Detective Agency" and/or I should be getting my teeth into the fore-warned adult-insanity collaboration "Venomist" with Rachel Kosak aka thrash-horror heart-throb
Hecate
.
Instead, I'm working all the hours god gave me, driving buses in Oxford AND having the most intense realistic disturbing memorable worrisome and pleasant dreams I've ever had, like in a long loooong while. By day I'm this professional driving machine and by night I'm this (I don't know how I'm doing it) Dream Creature that's able to conjure up wonderful high-resolution narratives that seem ALL TOO REAL.
In fact, though I'm not a believer, this Dream World seems so real, I hope I'm getting these
utra-vivids
as one of the Dream Worlders tries to communicate with me, physically emotionally intellectually. This may be how inhabitants of the various Dream Worlds share their thoughts, viscerally.
We're talking, "Don't wanna wake up from this gorgeous theatre, this is better than bread and butter and baby-making." Maybe a laudanum and brandy excursion is in order. A good long forever goodbye into the Dream State, there to be reborn as someone else's insane night-time remembrances.