Photo Post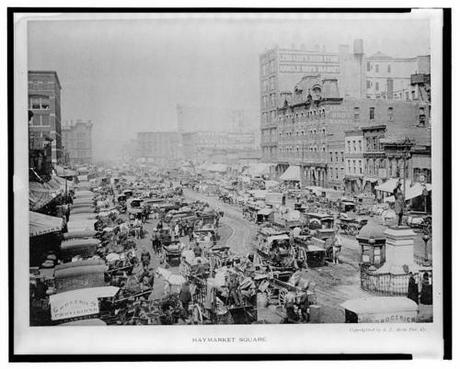 I'm really enjoying reading Sister Carrie by Theodore Dreiser, which, it turns out, is not about a fallen socialite, but rather about a young woman who serves as a metaphor for the rise of capitalism at the end of the 19th century in Chicago.
This is the sort I book I would have tried to read at 16, but would have put down after a few pages because it seemed incredibly boring. 
Now, I'm fascinated by the descriptions of Chicago in 1889. The Zola-esque anthropomorphization of the department stores. The way that the city has yet to reach the wilderness, although it lays its groundwork.
"Street car lines had been extended far out into the open country in anticipation of rapid growth. The city had laid miles and miles of streets and sewers through regions where, perhaps, one solitary house stood out alone—a pioneer of the populous ways to be. There were regions open to the sweeping winds and rains, which were yet lighted throughout the night with long, blinking lines of gas-lamps, fluttering in the wind. Narrow board walks extended out, passing here a house, and there a store, at far intervals, eventually ending in the open prairie."
Reading books like this clarifies the America we live in today. (I would get into it more, but, oh, lord, I'm so fucking fatigued of big ideas). 
If you're looking for something, pick it up. I think it's worth it.