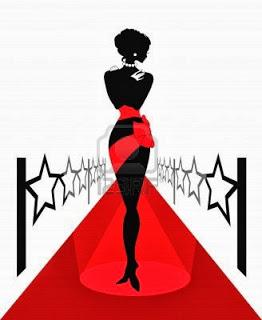 The Abu Dhabi Film Festival opens tomorrow and I'm right there on the red carpet rubbing shoulders with the stars. It is such a big event here and many of the Arab and International cinema stars are convening on Abu Dhabi for a fantastic 9 days of all things cinema. The festival opening night will feature the Middle East premiere of 'Life of Crime' starring Jennifer Aniston, Tim Robbins, and Isla Fisher. Director Daniel Schechter and actor Mark Boone Junior will discuss the film at a live audience Q&A during the opening night. The movie is a comedy based on the novel 'The Switch' by Elmore Leonard. I'll have all the details of the night on Friday! so be sure to tune in!
Super actor Simon Whitaker is expected to attend and who, by the way, is going to receive the Career Achievement Award. I know you must all know who he is, but for those who've 'forgotten' he's the guy who played Ugandan dictator Idi Amin in 'The Last King of Scotland' (2006).
Also gliding down that red carpet will be actress Hiam Abbas who starred in the movie 'Miral' (2010), Egyptian actors Ahmad Ezz, Basel Khayyat, and many many others. Two actresses that I am personally hoping to catch a glimpse of are Mervat Ameen and Lebleba, two very well established actresses who have had a major influence on Arab cinema.
Of course there are many distinguished actors and directors from all over the world who will be present and in fear of forgetting to mention any of them I have pasted 

the full press release of the ADFF

 at the end of this post.
So, as I'm too excited to review any books and this gal has a lot of 'getting pretty' to do in preparation for the RED CARPET, I leave you with this fantastic band that is taking the Arab world by storm. 'Mashrou' Leila' (literally means Leila's Project) are a six-member band from Lebanon who have performed their alternative Arabic music live to sold-out venues in Lebanon, Cairo, Amman, Istanbul, Dubai, Tunisia, Paris, Amsterdam, Montreal, Geneva and Serbia. Their third album is to be released this year.
This track 'Fasateen' is brilliant. 

Visit their Facebook page /their website HERE & to listen to the music/buy their albums click

HERE


The full press release of ADFF:
Abu Dhabi, UAE – October 23, 2013: Abu Dhabi will play host to film stars and other leading lights of the international film world when the seventh Abu Dhabi Film Festival opens tomorrow. Household names will walk the red carpet alongside new talents that the audience will discover during the nine day celebration. Festival Guests will attend screenings of their films, giving film fans a chance to hear insider stories first hand.
The seventh ADFF opens with the Middle East Premiere of LIFE OF CRIME. The director Daniel Schechter and actor Mark Boone Junior will discuss the film at a live audience Q&A during the Opening Night.
Also attending Opening Night is acclaimed US actor Forest Whitaker, who won 23 major acting awards, including the Academy, Screen Actor's Guild and BAFTA awards, for his performance as Ugandan dictator Idi Amin THE LAST KING OF SCOTLAND (2006). Whitaker, who has starred in iconic films like THE CRYING GAME (1992) as well as turning his hand to producing (Fruitvale Station) and directing films such as HOPE FLOATS, 1998 and WAITING TO EXHALE. In partnership with Jaeger-LeCoultre, Whitaker will receive a Black Pearl Career Achievement award.
Actress Hiam Abbass (Munich, 2005; THE VISITOR, 2007; MIRAL, 2010; and PEACE AFTER MARRIAGE which world premieres at ADFF 2013) will also be presented with a Black Pearl Career Achievement Award in recognition for her admirable contributions to cinema as an artist, actress and professional.
Mervat Amin will lead the Arab stars down the carpet, including Hend Sabri, Ahmad Ezz, Basel Khayat, Eyad Nassar, Kinda Aloush, Abed Fahad, Manal Khader, and Nesrine Tafesh. Egyptian stars Lebleba and Khaled Abol Naga, whose latest film VILLA 69 has its World Premiere at ADFF, will also join the Festival. Other Arab talents at ADFF this year include Saleh Bakri, one of the most internationally recognised Arab actors of our time. Bakri appears inGIRAFFADA and SALVO. Another rising star, Asser Yassin, will attend with his new film RAGS AND TATTERS. Abdel Monaam Chouaya will present BASTARDO and Samar Qahtan joins the delegation with IN THE SANDS OF BABYLON and UNDEREXPOSURE.
Stars from the Gulf region that attend this year's Abu Dhabi Film Festival include Mohammed Al Mansour, Dawood Hussain, Huda Al Khatib, Khaled Ameen, Ahmed Iraj, Samera Ahmad, Ahmad Al Jasmi and Maisa Al Maghribi. 
Merzak Allouache, attending ADFF with THE ROOFTOPS and OMAR GATLATO (1976), will receive the Variety Award for Middle East Filmmaker of the Year during the Festival. Other Arab directors with films in competition include Mohamed Jabarah Al-Daradji, Director of IN THE SANDS OF BABYLON, Ahmad Abdallah, Director of RAGS AND TATTERS and Ayten Amin, Director of VILLA 69. Directors Férid Boughedir (HALFOUINE: BOY OF THE TERRACES),Moufida Tlatli (SILENCES OF THE PALACE), Mohamad Malas (DREAMS OF THE CITY) andOday Rasheed (UNDEREXPOSURE) films appear in the Special Programme "Debut Films by Arab Filmmakers". Documentary filmmakers Mohammad Soueid (HANGING DATES UNDER ALEPPO'S CITADEL) and Kasaim Abid (WHISPERS OF THE CITIES) present their latest films as well.
Two Kurdish directors will be at the screenings of their films in this year's edition of ADFF: Hiner Saleem (MY SWEET PEPPER LAND) and Hisham Zaman (BEFORE SNOWFALL).
Many leading lights of Indian Cinema will be at the Festival for its celebration of the centenary of Indian Cinema. Cross-over star Irrfan Khan, who has taken Bollywood and Hollywood by storm, attends with his new film QISSA, along with the film's director Anup Singh. Director Richie Mehta presents SIDDARTH, and director Aparna Sen presents THE JEWELLERY BOX at a Premiere attended by a star of Hindi and Bengali cinema, Moushumi Chatterjee. In the Special Programme "Celebrating Indian Cinema" Jahnu Barua, director of THE CATASTROPHE, andM.S. Sathyu, director of SCORCHING WINDS, will attend screenings in person. Producer Ashok Amritraj, whose extensive credits include the Opening Night film LIFE OF CRIME, will also attend the festival and deliver a workshop as part of ADFF TALKS FILM.
International stars attending ADFF include, among others, Chinese actress Tao Zhao (A TOUCH OF SIN), Philippine Superstar Eugene Domingo (BARBER'S TALES), Golshifteh Farahani andKorkmaz Arslan (MY SWEET PEPPER LAND), and rising stars Laure De Clermont-Tonnerre(GIRAFFADA), Gugu Mbatha-Raw and Sam Reid (BELLE), as well as Louis Garrel(JEALOUSY).
As for international directing talents, expect to see Academy Award winner Danis Tanovic (AN EPISODE IN THE LIFE OF AN IRON PICKER), Amma Asante, (BELLE) and from China Jia Zhangke, (A TOUCH OF SIN). Baroness Beeban Kidron, appointed Officer of the Order of the British Empire and life peer in 2012, is attending with her new film, INREALLIFE. The director ofHARMONY LESSONS, Silver Bear winner at this year's Berlinale, will be presented by the director, Emir Baigazin from Kazakhstan as will SACRO GRA, which won the Golden Lion in Venice this year for Italy's Gianfranco Rosy. French Fashion Designer Agnès Troublé, akaAgnès B., who has produced a number of films including Harmony Korine's Spring Breakers, makes her directorial debut with MY NAME IS HMMM...
ADFF also welcomes renowned producers Cedomir Kolar (AN EPISODE IN THE LIFE OF AN IRON PICKER), Uberto Pasolini (STILL LIFE, Oscar nominated for THE FULL MONTY in 1997),Mohamed Hefzy (VILLA 69 and RAGS AND TATTERS) and Catherine Dussart (THE MISSING PICTURE) to the Festival.
The Abu Dhabi Film Festival runs from October 24 until November 2. The Ceremony for the winners of the Black Pearl Awards will take place on October 31.