… for my son's wedding in August. I haven't bought a new suit in 30 years, so this is an occasion I'm dreading.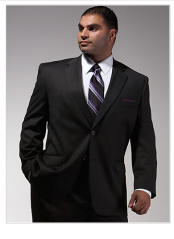 This is the one I like.
Anyway, Elly and I are of to Men's Wearhouse (or as I refer to their Big and Tall section the Fat Man Shop) where I saw a suit advertised that I can live with, given my outrageous size. They also advertise 2 for 1, although what I am going to do with two fat man suits is beyond me. If I was an insurance agent or a stock broker or something, I could see it… but I'm a retired computer and theater guy with a couple of local radio shows where no one sees me. Suits are not a big deal.
Buddy's wedding, however, is another story and there are requirements that must be met, so I expect to come back with receipts for two suits which will be being hemmed and altered. Next step is shoes, shirts and a tie (something other than the couple of old ties I found in my closet.)
Pictures of me in this stuff to come.