Since having the Little Man I have 'had a go' at trying to shed some of the baby weight I put on (all 4 and a half stone of it!) but I haven't really made too much effort. I had a go with the
Lighter Life 5:2 diet
which sadly didn't work. I found it too restricting and just not for me so I decided to go back to what I know,
Slimming World
. It's worked for me before and I'm really pleased to say, it's working for me again!
I'm following the Slimming World plan whilst also listening to my
slimpod
 every night. Combined they are clearly working well!
I have been back on the plan for two weeks now and in that time I have managed to loose a grand total of 10.5lbs! It's amazing. I feel motivated and encouraged because I've seen dramatic results so quickly. I know my losses aren't likely to say that big, but as long as its a loss I don't mind what it is.
I'm also trying to go for a decent walk walk every couple of days with The Little Man in his pushchair.
I managed to get both Slimmer of the Week and my 1/2 stone award at class this week.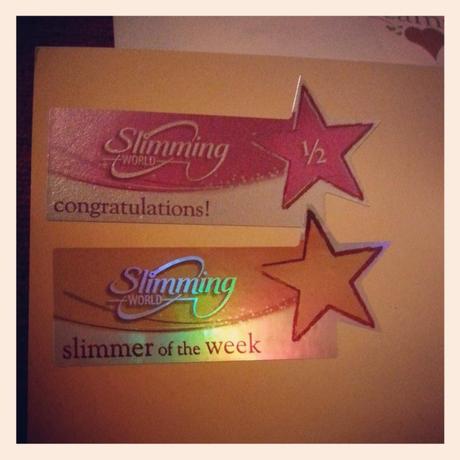 I'm following the Extra Easy plan, as red and green days just confuse my brain.
I'll share some of the recipes on the blog that I make for anyone who is interested.