I have a new love.  Chalk Board Spray Paint. Throw in some fake flowers & ribbon...oh my word. So cute! I took some empty mini wine bottles & sprayed them with the chalk board spray paint & thought I was done.  They were cute, stuck 'em on the shelf,  end of story.
But....today,  fake flowers were on sale at Michael's for .99 a bushel. Beautiful fall colored flowers, leaves, berries, etc. And ribbon was on sale for 50% off....so I had to get some for incase purposes!
Well...I am so glad I did. I came home,  cut off a few flowers and stuck them in a vase i bought...a face that is way too long for little cut-off fake flowers. Bummer. Then....I remembered! My chalkboard wine bottles!!!
And well,  they fit absolutely perfect.  But...were missing something.  Yes,  my just-in-case ribbon!!! Put the 3 together? And I got a pretty fabulous little fall centerpiece for my coffee table! It may just be my new favorite thing in my apartment.  I am contemplating spraying a bigger wine bottle tomorrow and putting the 2 together on the table as I really am a fan of the various size-look.  So simple, cheap & festive!  Here it is....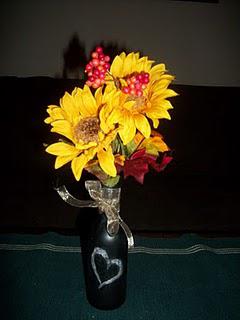 <a href="http://en.paperblog.com/" rel="paperblog kristin1219" title="Paperblog : The best blog articles around" >
<img src="//m5.paperblog.com/assets/images/logos/minilogo.png" border="0" alt="Paperblog" />
</a>