Diary of a Muzungu is proud to be a sponsor of Big Birding Day 2013, supporting the next generation of birders in Uganda.
How many birds will you see at Big Birding Day 2013?
Bigger and better than ever, help us beat last years record - 290 birders in 58 teams, birding in 35 areas, recording 657 species (63% of the total species of Uganda recorded and an increase of 82 species from the 2011 record)!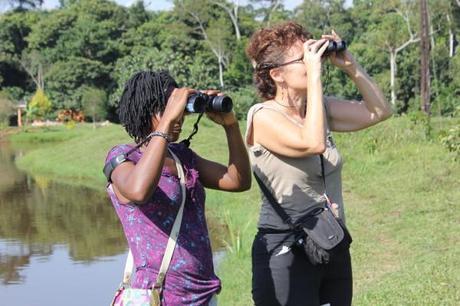 The Muzungu with young birder Hope at Kasenge on International Day of the Safari Guide. Photo courtesy of Titus Kakembo and Uganda Tourism Press Association
This Friday 18th October is the official launch of Big Birding Day 2013 at the Uganda Museum in Kampala.
The free to enter Big Birding Day race is a 24 hour competition this Saturday, 19th October, at dozens of sites across Uganda, involving birdwatching groups competing to score the longest bird species list in 24 hours. Birding teams are led by experienced bird guides from NatureUganda membership, UWA staff and Uganda Bird Guides Club (UBGC). Each group must have at least 2 members who are experienced bird watchers to confirm the species identification.
All birds seen and/or heard calling within these sites will be recorded (TICK!) A tally centre will be set up at NatureUganda to receive and check all records.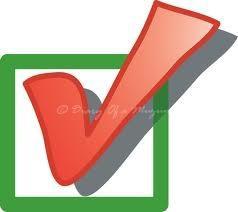 Each new bird sighting gets a TICK – but no cheating please guys!
The Uganda Wildlife Authority (UWA) and National Forestry Authority (NFA) are offering FREE entry for all Big Birding Day participants birding in National Parks, Wildlife Reserves and Forest Reserves - but you need to register your team first. (Scroll down for the flyer and contacts below).
…And if you can't make the Big Birding Day race this Saturday, why not join us for the Festival Saturday 26th October? Here NatureUganda will name the Big Birding Day winning teams at Kitante Primary School Gardens (behind the Uganda Museum). This free event is open to the whole family and will be a chance to learn more about birds and birding. There will also be live music, dancing, face painting for the kids and more…
What can you expect from the Big Birding Day 2013 Race?
One year I was lucky enough to tag along with expert birders Roger Skeen and Nathan Eluku who recorded an incredible 175 bird species between Namuwongo, Kampala and Entebbe. What a fantastic day out it was. And the best bit? Our team won!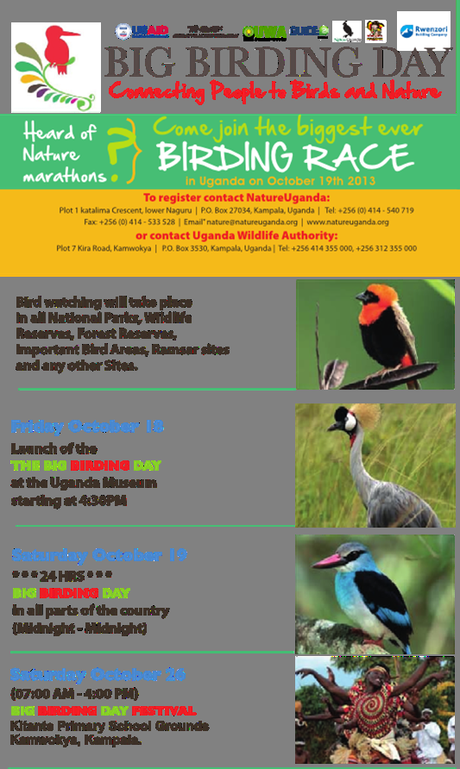 Diary of a Muzungu is proud to be a sponsor of Uganda's Big Birding Day 2013, supporting the next generation of birders. Birds, conservation, tourism
It's not all about winning of course… this year I'm excited to be going to Mabamba Swamp, famous for its rare Shoebill Stork. I can't wait!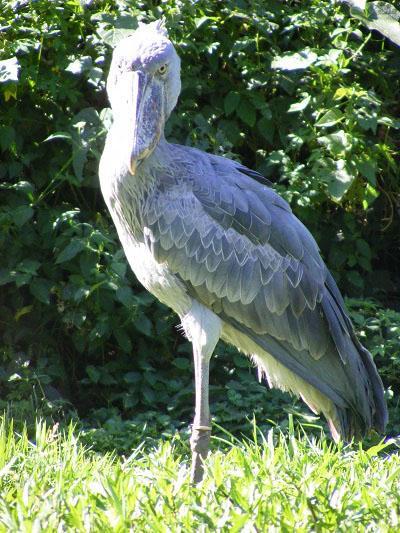 Shoebill Stork, first seen by the Muzungu (though the mesh of its cage) at UWEC, Entebbe, Uganda
If you're asking yourself, "why exactly does the Muzungu keep banging on about birds?" read "Why we should embrace Uganda's Big Birding Day." They delight me and enthrall me.
There's a serious side to the event too and this year's theme is: Birding, Our Livelihoods and Our Economy
Birdwatching can present significant economic opportunities for countries through sustainable tourism, says the United Nations environment agency. In Uganda, tourism is the number two foreign exchange earner (second only to remittances from Ugandans living overseas).
Did you know that worldwide, one in eight people earn their living directly or indirectly because of the tourism industry?
You only need to look at Uganda's gorilla tourism and the way this single species has promoted Uganda internationally and helped fund other tourism initiatives and conservation across the country to see the huge potential for birding to develop Uganda's economy. The Uganda Wildlife Authority, conservation organisations and tourist lodges work very closely with the community: training and employing local people.
Birding directly employs qualified bird guides and rangers, tour operators and sales consultants. Employment opportunities exist for land owners, farmers and producers who supply lodges, people who maintain tracks and trails, lodge and hotel staff and all the smaller businesses that support these: boda boda drivers, restaurants and shops. Birding tourism or 'avitourism' can thus become an economic and political force for both development and conservation.
Birding disproportionately favours the poor, since we find the highest number of bird species in remote areas. Thus, with the right investment in training and tourist facilities, birding can contribute to raising people out of poverty.
By supporting Big Birding Day 2013, the training of the next generation of birders and the investment in tourism infrastructure, you're helping build the skills and opportunities of individual Ugandans, the economy of Uganda and protecting its wildlife and natural heritage at the same time …
… hell, you can have a great day out at the same time

Please contact NatureUganda on 0414-540719 / 0414-533528 / 0772929626 to find out more, email [email protected] or register via the NU website.
NatureUganda is a membership-based organisation that would not exist without your support. 
Did you know you can renew your NatureUganda membership by mobile money? Just 5000 UGX for students and 25k UGX for annual family membership. Send to 0777147367
Follow NatureUganda on Twitter and be a Fan of NatureUganda on Facebook