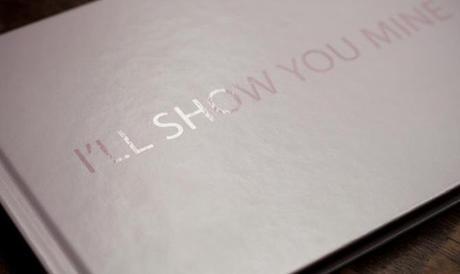 As I cracked open the pink cover of "I'll Show You Mine" and pulled back the beautiful, full-color pages, my mind rushed back to five years ago. I was in a tiny feminist sex boutique halfway up a Manhattan high rise. It was in that shop's book section that I first saw (and subsequently purchased) 1980's classic "A New View Of A Woman's Body". Right in the middle of the book, there they were: real vaginas. Real vulvas. Real cervixes. At the time, I had no clue shops like this existed, let alone books like this. Seeing a stranger's body in all of its reality shocked me, fascinated me, and eventually sparked a transformation of my understanding of what is "real" and what is "normal". "I'll Show You Mine" offers a transformative experience much like this.
Born of a collaboration between accomplished academic and exotic dancer Wrenna Robertson and photographer Katie Huisman, "I'll Show You Mine" was created to debunk artificial standards of beauty and normalcy in female genitalia by showing it plainly and simply for what it is. The book features unaltered views of sixty women's genitals along with an "in-her-own-words" explanation of the individual's thoughts of her body and sexuality. As diverse as the backgrounds of the participants, these brief stories range from deeply emotional to nonchalant.
With the lack of genuine, unaltered, diverse depictions of women's bodies out there, "I'll Show You Mine" is indeed a wonderful resource. However, I do not feel that it gets to the real root of the problem. Fictitious standards of beauty and normalcy cause real harm. In fact, a 2010 study from Vanessa Schick of George Washington University reveals "if a young woman has negative perceptions about her genitals she is less likely to seek gynecological care". But, do these negative perceptions truly come from us not seeing a diverse range of bodies frequently enough? Can we really blame it all on the prevalence of mainstream porn, crappy sex ed, digital airbrushing, or cosmetic surgery? I don't think it's that simple. Actually, these seem more like symptoms than the disease. Feeling shitty or weird about our bodies and not knowing what the hell "normal" looks like (hint: "normal" is an illusion) comes from a culture that values people based on what they look like and their ability to fit into socially proscribed roles rather than as complete, diverse beings. But until that changes, books like "I'll Show You Mine" are doing a great job of sparking transformation. So, pick up a copy and take a look. Then, show someone else.
This hard cover, 128-page book is available for $30 through www.showoffbooks.com. Ten percent of all profits will be donated to women's charities and free copies are available for educational and/or public use.