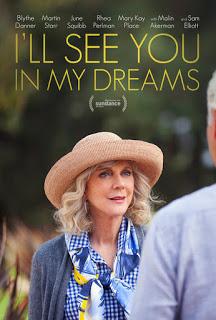 Released 15 May 2015.
Directed by Brett Haley, 
I'll See You in My Dreams
 (2015), Blythe Danner stars as Carol, a widow of twenty years who is negotiating through the challenges and opportunities that come in the second half of life.
This film depicts Carol interacting with a trio of friends (Rhea Perlman, June Squibb and May Kay Place) as well as her adult daughter, Kath (Malin Akerman). 
In between outings, Carol drinks wine poolside in her backyard, thinking about how to structure her day and how to eradicate a roof rat who keeps skittering across the front room of her home. 
The tone is quiet and understated with a lilting, poetic quality. 
Nevertheless, the audience can tell that Carol is trying to find purpose and companionship in response to the loss of her dog, Hazel and the decades' long loss of her beloved husband.  
Carol's friends try to push her to date; however, she's reserved and reticent. 
She ends up connecting more organically with a couple of people who cross her path--a twentysomething pool boy (Martin Starr), who shares her love of music and nonconformist views on life; and a gruff but attractive gentleman (Sam Elliott), She bumps into him a few times before they learn each others' names. 
While this film might depict some of the common themes of late life, it certainly doesn't address them with glib statements or idealistic outcomes. 
Instead,
I'll See You in My Dreams
provides opportunities for the viewer to mull over the different ways that people can respond to grief, changing roles, shifting relationships, and finding a reason to get out of bed, get dressed, leave the house in order to live in the present.
Related:
Films about Aging
Films about Love and Sex for People 50 Plus