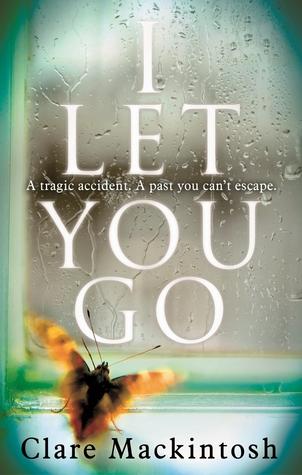 I Let You Go by Clare Mackintosh
Published by Sphere
Paperback
Published 9 November 2014
371 pages
Owned
Connect with the author
WHAT'S IT'S ABOUT
In a split second, Jenna Gray's world descends into a nightmare. Her only hope of moving on is to walk away from everything she knows to start afresh. Desperate to escape, Jenna moves to a remote cottage on the Welsh coast, but she is haunted by her fears, her grief and her memories of a cruel November night that changed her life forever.
Slowly, Jenna begins to glimpse the potential for happiness in her future. But her past is about to catch up with her, and the consequences will be devastating.
EXTRACT
Detective Inspector Ray Stevens stood next to the window and contemplated his office chair, on which an arm had been broken for at least a year.
WHAT I THOUGHT
I Let You Go has been on my TBR list for ages. I don't know why I waited so long to read it and wish I hadn't. This is one of the most complex novels I've read in ages. The quote on the cover from Peter James speaks volumes 'compelling with an astonishing twist'. Absofickilnglutely! There are actually three fantastic twists in this novel. Twist one; halfway through the novel I was stunned to learn the book was not being narrated by the character I thought it was but a different person altogether and what I thought until that point was turned upside down. Twist two; who was really driving the car that killed five-year old Jacob. OMG! Twist three; the driver's relationship to Jacob. I did not see that coming, not even a little. I Let You Go is a brilliant example of misdirection. Clare Mackintosh led me down the garden path all right. This is also a fantastic example of using an unreliable narrator. I Let You Go is gripping and unforgettable. Unmissable.


I'm thirty-five years old and live in Glasgow in the UK with my partner of ten years. I work in a support team for a call centre. I like reading especially Joyce Carol Oates and Stephen King. I write fiction and poetry. I enjoy watching TV (Grimm, Torchwood, Doctor Who, Lip Service, The L Word etc). I like to play video games and am a fan of survival horror especially the Silent Hill franchise. I like to watch movies especially horror and anything where someone dies. View all posts by pamelascott30