From the moment we arrived, I could feel that Traverse City was more than just a small lakeside vacation destination for big city Michiganders. Instead it's a town filled with great food, fantastic culture, beautiful beaches, and some really amazing people. Even though we only spent a few nights getting to know the town, Lauren and I both fell in love with its charms, and I left a piece of my heart in Traverse City.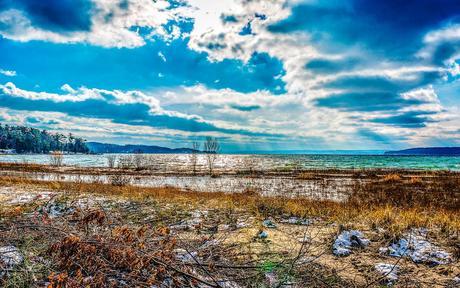 We spent a total of 4 nights in Traverse City, Michigan and our experience gave us the opportunity to enjoy two distinctly different views of the area. Our first two nights consisted of enjoying a luxurious, romantic getaway at the Grand Traverse Resort and Spa. Our time there was spent enjoying fine dining, spa treatments, fancy cocktails, and an evening of gambling at their sister property the Turtle Creek Casino. The resort was right outside of town and was a wonderful taste of the good life. (You can read more about our time at the Grand Traverse Resort here)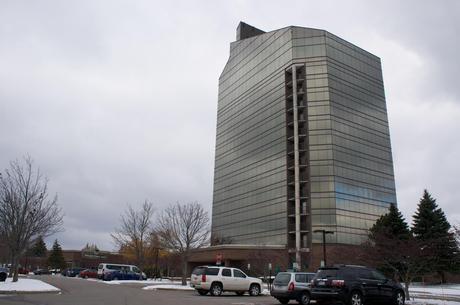 Grand Traverse Resort and Spa
After enjoying the resort, we moved from the outskirts of town and right into the heart of things by spending a couple of nights at the Sands Motel. It's a much smaller and cozier pet friendly motel, located on prime Lake Michigan beach front property. Sitting on Highway 31, it's on the main drag through town and super convenient for heading out and exploring. Even though it was late Fall, there was a bit of snow on the beach, which was an odd juxtaposition for a Southerner like me.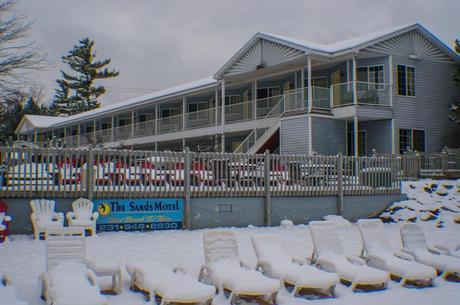 ---
---
Even though it was unseasonably snowy, there were still some lovely beach views to be had.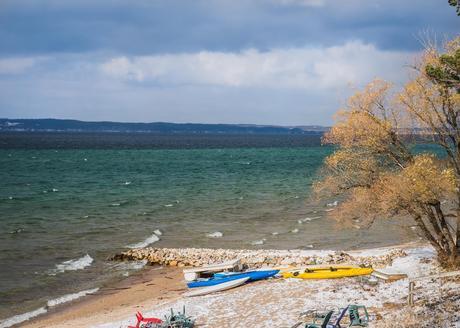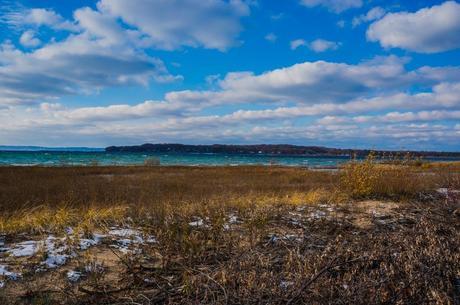 We were so enamored with these lovely views that we decided to take a drive along the Grand Traverse Bay to see the Grand Traverse Lighthouse in Leelanau State Park. The drive was filled with lovely vistas and lots of quaint historical homes.  The drive is about an hour in each direction, and completely worth it.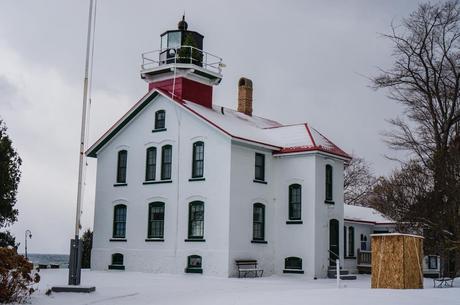 Traverse City is also filled with quite a few older and historical properties. The most impressive though is what's now called The Village at Grand Traverse Commons. Originally opened as the Traverse City State Hospital, the property was originally opened as an asylum in the 1880's and was ultimately closed about a century later in the 1980's. Thankfully, instead of razing the property, it was designated as a historic site and has since been restored into a fun mix of retail, housing, and restaurants that effectively preserve the site's history while completely transforming it into a modern complex.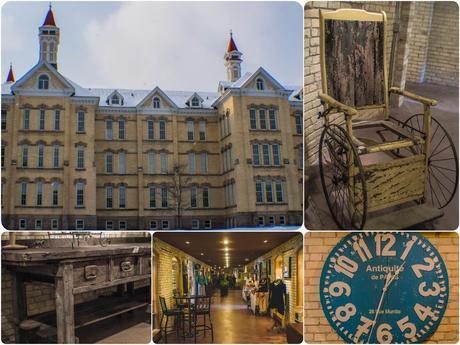 There's much more to Traverse City than lovely beach views and historical properties though. We found a few cozy spots to nosh on some delicious grub, while also hobnobbing with some of the locals.
If you're looking for breakfast or a quick lunch make sure to stop by the Grand Traverse Pie Company. Locally owned and operated, their menu has a nice mix of  breads, sandwiches, coffees, and quiche to get your day started. Once you've been lured in though, the real treat is their amazing selection of pies that look like they were just put out on the shelf to cool by Grandma.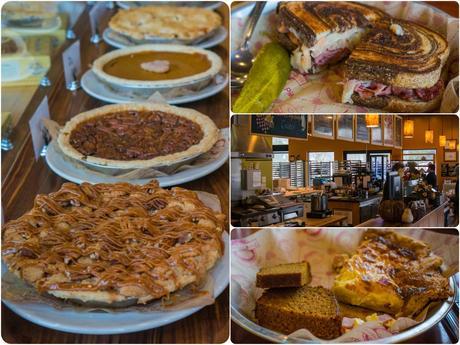 While unexpected, we also found a nice little Carribean / Latin Fusion place called Red Mesa Grill.  They served a nice mix of creative menu items like Chicken and Chorizo Stuffed Poblanos's, a Coffee Crusted Tuna, and Peruvian Armadillo Eggs. The eggs were basically a twist on "papas rellenas" but filled with spiced chicken and served with a green tomatillo. On top of the great food, they also had a huge selection of hot sauces that was right up our alley.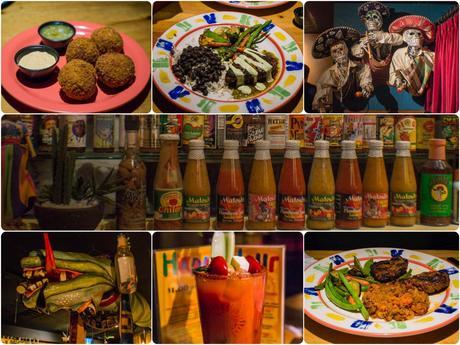 Our favorite place to eat though, had to be a lovely little spot called the Jolly Pumpkin. A combination restaurant, brewery, and distillery this place had everything you'd need for a casual afternoon brunch or a hearty dinner. We started our meal at the Jolly Pumpkin in their tap room where we sipped on a variety of their house made sour beers. They were very well constructed and definitely worth trying even if sours aren't your thing. Don't worry though, they also have solid selection of brews on tap from North Peak which are brewed in downtown Traverse City. As far as the food goes, it's classic pub fair and it was prepared spot on.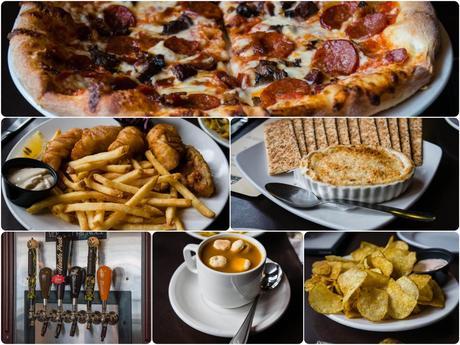 ---
---
Speaking of drinking, a trip to any city wouldn't be complete without a visit to a brewery or distillery. Good thing Traverse City is home to both. We decided to pay each of them a visit one day and are glad we did.
We started with the Grand Traverse Distillery  since you all know what they say about liquor before beer

. Opened in 2006, the distillery produces a nice selection of award winning vodka, gin, and rye whiskey that are made with about 90% locally sourced ingredients. They offer tours in the spring and summer and have a tasting room that is open year-round.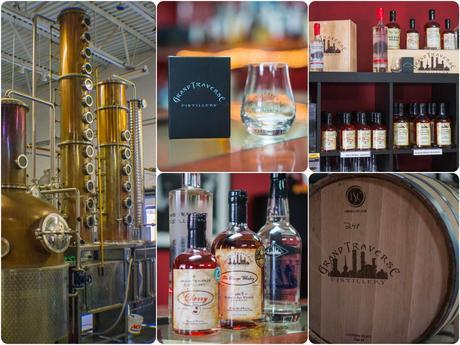 After warming up at the distillery, we made our way over to the Right Brain Brewery. To be honest, it's a wonder we ever left!
It's no secret I'm a fan of stouts and porters and Right Brain had quite a few that were right up my alley. In all honestly we tried almost ever brew they had on tap and found all of them to be extremely well balanced. From their everyday CEO Stout to their slightly weird Mangalitsa Pig Porter (yes it has actual smoked pig in it) each brew is carefully crafted using no preservatives and no extracts.
That means when you are sipping on their Blueberry Pie Hole, you can be assured that the delicate blueberry flavor comes from the 40 blueberry pies (from the GT Pie Co. of course) that were ground up crust and all before being added to the brite tank.  With a mix of over 50 different beers brewed throughout the year, every trip to Right Brain is guaranteed to expand your beer drinking horizons.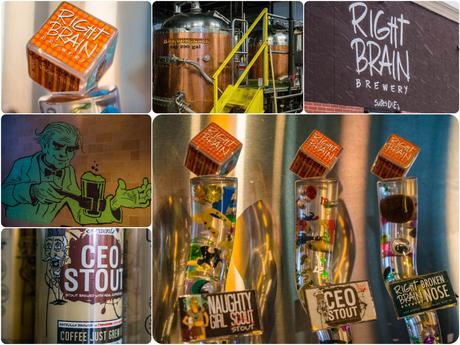 Throughout the course of our 4-days in Traverse City we were pleasantly surprised to find a place that was filled with people passionate about their home town. While a lot of vacation destinations are merely a sum of their attractions, Traverse City was much deeper. It was a community filled with proud residents that are warm and friendly. That made it the kind of place you could come back to year after year just to visit an old favorite haunt or to stumble onto something new and different.
---