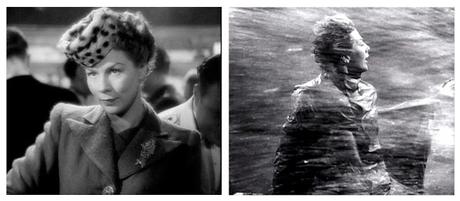 Rich, vivid Technicolor is one of the hallmarks of the most well known and celebrated of the gorgeous, masterful films from the production team of Michael Powell and Emeric Pressburger, The Archers. From the mid-1940s into the early '50s, almost all of their films were shot in striking 3-strip Technicolor, often by cinematographer Jack Cardiff. Cardiff had been a camera operator for Denham Studios when the American Technicolor Company recruited him as their first technician in Great Britain. He would shoot England's first color film and initially work with Powell and Pressburger as a second unit camera operator on their first Technicolor film, The Life and Death of Colonel Blimp (1943). He would graduate to cinematographer on their second color outing, A Matter of Life and Death/Stairway to Heaven (1946). But there would be a delay in the production of the second film due to the limited availability of Technicolor cameras and film stock in England at that time and the shoot would be delayed for months because of the  shortage. 
In the meantime, producer/screenwriter Emeric Pressburger mentioned to his partner, producer/director Michael Powell, an idea he'd had for a story about a woman who is trying to get to an island but never does. This fragment of a concept evolved to become I Know Where I'm Going! (1945), a black and white beauty that in time got lost in the shuffle among The Archers' more colorful epics and grand scale dramas. But this outwardly "smaller" film is no less artful or engaging than the more prominent entries on Powell and Pressburger's filmography. 
The title, taken from an old Scottish folk song, makes no secret of a central theme and an entertaining opening credits sequence provides ample exposition:

Wendy Hiller, flashing her nobly sculpted cheekbones and upturned nose, strides across the screen as Joan Webster, now a stylishly suited 25-year-old bright young thing in a jaunty leopard skin pillbox hat with matching purse. She's on her way for drinks and dinner with her bank manager father and all wound up over the good news she's about to share with him. She's on the verge of getting everything she's ever wanted for as long as she's wanted anything; tomorrow she will wed Sir Robert Bellinger, her employer, an industrialist who is her father's age and "one of the wealthiest men in England." She will be rich! At dinner her father stifles her sudden flash of pretense toward the waitstaff with the admonition, "Stop acting, you're not Lady Bellinger yet!"
That evening Joan sets off on the first leg of her many-legged journey to her fiance, for Lord Bellinger is staying on the Island of Kiloran in Scotland's Western Isles. Boarding a train out of Manchester, Joan is on her way, but later that night she has an unusual dream...
En route to the tiny fishing village of Tobermory on the Isle of Mull, her last stop before she sails for Kiloran, Joan will travel winding roads over lofty hills, around secluded coves, near soaring cliffs and past ancestral castles dating from ancient times.  As she draws nearer to her destination, the weather shifts from promising ("It's a sublime day!") to foggy and wet and windy. She is leaving the modern industrial world where she has been very comfortable, and entering into a primeval landscape and "old ways" that will have an unsettling effect on her.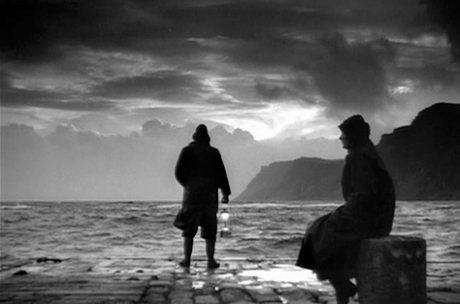 Joan sits on her suitcase at the dock waiting for Sir Robert's boat

The best laid plans begin to fall apart. A gust of wind blows Joan's cherished itinerary into the sea and stormy weather prevents Sir Robert's boat from crossing to Tobermory to pick her up that evening as scheduled. Through Torquil MacNeil (Roger Livesy), a Naval officer home on shore leave, she finds shelter with his old friend Catriona Potts (Pamela Brown). Mrs. Potts arrives home toting a rifle, accompanied by a pack of rambunctious Irish Wolfhounds. Windblown and down to earth with a gaze that misses nothing, Catriona is the antithesis of Joan.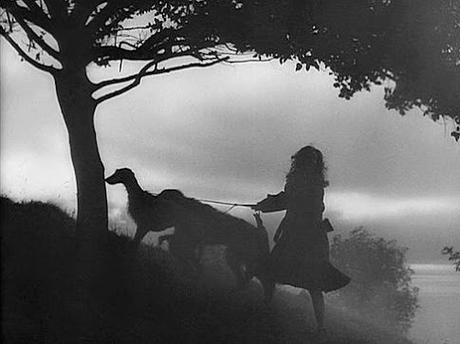 Catriona Potts and her Wolfhounds

A forecast gale sweeps in and lingers. With delight Torquil escorts Joan around the port, introducing her to the local folk, to highland culture and lore and to the landscape of Scotland's rugged Western Isles. She asks with wonder when she hears an eerie calling sound and is told it is a pod of seals singing, their reaction to warm and foggy weather. When she comments to Torquil that "People around here are very poor, I suppose," he replies, "Not poor, they just haven't got money." "It's the same thing, " she remarks. "Oh no," he says, "it's something quite different." And he takes her to a traditional celebration of highland dancing and singing, a Ceilidh (kay-lee) in honor of a local couple's Diamond wedding anniversary...
The weather refuses let up and Joan becomes desperate. Something deep and elemental has begun to stir in her nature and she has also become strongly attracted to Torquil, an attraction that is mutual. Beginning to doubt herself and losing her grip, her reaction is to double down on achieving her purpose and to cross the channel to Kiloran however she must, regardless of the risk.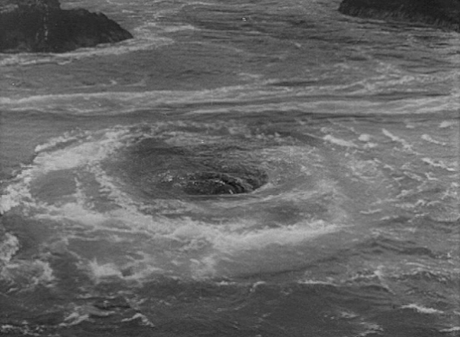 the Corryvreckan
I Know Where I'm Going! is the story of a young woman's transformation as she learns there can be much more to life than its glossy surfaces. Wendy Hiller is spellbinding in her portrayal of Joan's gradual, initially begrudging response to Scotland's wild beauty and the man who introduces her to it. There is both subtlety and intensity in her portrait of Joan's difficult journey from a selfish world view to an open embrace of life. Hiller made few films, among her most memorable are Pygmalion (1938) for which she was Oscar-nominated, Major Barbara (1941), Separate Tables (1958) for which she won a supporting Oscar, and Murder on the Orient Express (1974). Her performance in I Know Where I'm Going! is arguably her most moving and enduring.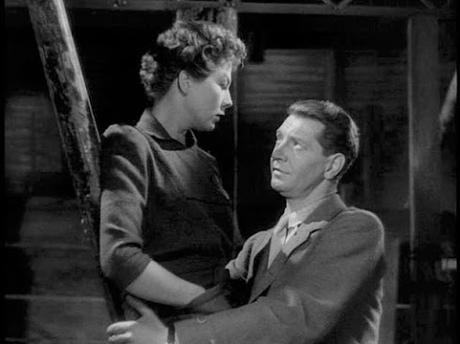 A moment of truth

The film's visual splendor owes much to DP Erwin Hillier. Anglo-German, he was born and raised in Berlin where he worked at Germany's UFA studios with F.W. Murnau on Tabu (1931) and Fritz Lang on M (1931). These influences are apparent in his photography on I Know Where I'm Going! Michael Powell praised Hillier's "keen eye for effect and texture...whether in the studio or on location" and noted that he had an affinity for cloudy skies; this would serve him well on I Know Where I'm Going! The thrilling special effects that Powell, Hillier and production designer Alfred Junge imagined for the climactic "Corryvreckan" scenes combined a variety of on-location shots of the sea with in-studio filming.
I Know Where I'm Going! was released in December 1945 and was successful in both Europe and the U.S. But Powell and Pressburger were now committed to Technicolor and in rapid succession produced three color-saturated films, A Matter of Life and Death/Stairway to Heaven (1946), Black Narcissus (1947) and The Red Shoes (1948). Black Narcissus would be nominated for and win two Oscars, for cinematography (Jack Cardiff) and art direction (Alfred Junge). The Red Shoes was nominated for five Oscars including Best Picture and won for its art direction and score. Both films were quickly proclaimed masterpieces and are acknowledged as two of the most magnificent Technicolor films ever made. And so I Know Where I'm Going! was for a long while forgotten.
I Know Where I'm Going! was screened during the 2021 TCM virtual film festival (though in the middle of the night), an indication of its rediscovery. At last! Faultlessly conceived and realized from its screenplay, performances and photography to its production design/art direction, editing and score, this is one of Powell and Pressburger's great masterpieces, lacking nothing for not having been filmed in 3-strip Technicolor. 
~
This is my entry in the Classic Movie Blog Association's Spring 2021 blogathon, Hidden Classics. Click here for links to all participating blogs and enjoy!