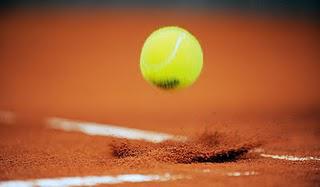 I can't believe I'm just now telling you about the National Senior Women's Clay Court Championships that I went to last week. They were held here at the Houston Racquet Club and all you had to do was show up to see some really great tennis played by some incredible ladies. In case you didn't know, the definition of "Senior" for this tournament is anyone 35 years-old and above so many of these women were, in my over-40-years-of-age opinion, quite young. But they do have divisions going all of the way up to age 85 and older so there were all kinds of ladies there.
I happened to take a seat (on a concrete ledge) for the 45 singles final between Mariana Hollman and Shelly Works. Talk about counterpunchers! These ladies battled for over four hours in very warm and very humid conditions. I was amazed. I learned more about singles strategy watching these two go at it for 2 hours than I ever could in 2 hours of lessons. Hollman ultimately prevailed 5-7, 6-3, 6-3 but I think it could have gone either way. The most amazing thing to me was that if I ran into either of these two women in the grocery store, I would no more think they were high-level tennis tournament champs than I would think they were astronauts. They just looked like two regular women. Albeit with massively muscled thighs and super cut arms.
It was a great day watching fabulous ladies playing wonderful tennis. I wish I could have seen more. My consolation - the U.S. Men's Clay Court Tournament qualifying rounds start at the end of this week and I am a volunteer! So I plan to have lots to see about tennis players and tournaments over the next two weeks. Stay tuned!
DON'T FORGET: Leave a comment on this post to enter the Tennis Fixation giveaway for a super cute black and white tennis skort from the www.4allbyjofit.com New Orleans collection. And go to this post - What's Black And White And Cute All Over? - for info on how to get more entries for this great giveaway!
BONUS: 4all knows you're ready to update your athletic wardrobe for spring. So, from March 28 to 31, they're offering a 20% discount on skorts ordered off their website (click on this link: www.4allbyjofit.com to start shopping). Just use the code SPRING11 at checkout.


© Kim Selzman 2011 All Rights Reserved