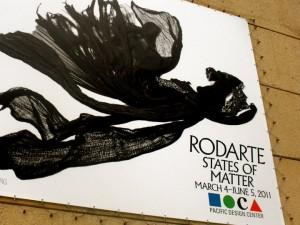 A few weeks back I mentioned my excitement to visit the Rodarte exhibit going on right now at the Museum of Contemporary Art (MOCA) in L.A. Well, I finally made it out there and I was blown away at what I saw! The exhibit was small but breathtaking; I have never appreciated or been so deeply in love with fashion before, which (if you see my closet) is hard to imagine. The Rodarte label proved in this exhibit how deserving they are to have had the booming success they have in the past few years. Let's face it- becoming such a huge name in the world of high fashion in only the past six years is incredible! But after seeing the designs in person,  it's obvious Rodarte was meant to be an internationally known luxury brand.
Sisters Kate and Laura Mulleavy, the designing duo of Rodarte, started the line in 2005 with no formal training in fashion design. Since the line's inception they have received numerous prestigious awards including CFDA Womenswear Designer of the Year in 2009. Their first collection of only 10 pieces gained the attention of fashion media moguls such as WWD Magazine and Anna Wintour, editor-in-chief of Vogue. Most recently, the Mulleavy sisters have named Elle Fanning as their muse.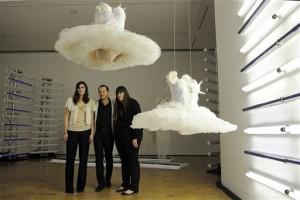 After visiting the exhibit at the MOCA located in Hollywood at the Pacific Design Center, I was more in awe of Rodarte than I was before. Although I have always been a fan of their unique designs,  I had no idea how detailed and beautiful a dress could be. I am tempted to call this an art exhibit as every design was truly a work of art! The exhibit featured pieces from their Spring 2010, Fall 2010 and Fall 2008 runway shows and also included original ballet costumes from the movie Black Swan, in which Laura and Kate collaborated with on costuming. Each piece was so magnificently detailed and inspiring, the small exhibit still took me a while to get through- I was mesmerized!!!
I was unable to take photos inside the exhibit, but check out some of the sneak peeks I found on LAist.com and other sites! If you live in L.A. or are planning a visit anytime before June 5, I HIGHLY recommend you go and see this!