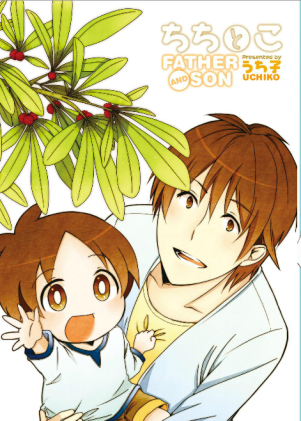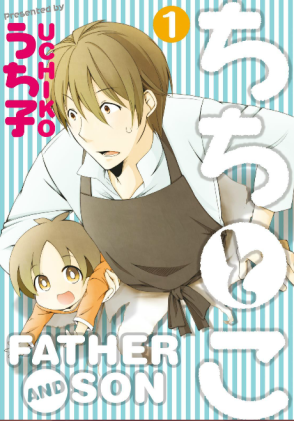 1) A few weeks ago, Crunchyroll licensed 4 Square Enix property manga titles:
Aizawa-San Multiples (Aizawa-San Zoushoku) by Seiichi Shiki
Father and Son (Chichi to Ko), by Uchiko
Tales of Wedding Rings (Kekkon Yubiwa Monogatari), by Maybe (Dusk Maiden of Amnesia creator)
Donyatsu, by Kozaki Yusuke (manga artist, recently known as Fire Emblem Awakening character designer)
We decided to cover two of them. The other two sounded horrifying.
2) After discussing who would actually cover it, Helen and Justin stepped up and chose to read the ones they thought might be interesting. We do this by answering 3 questions. Father and Son is live, and this is the manga we covered first. Feel free to give your thoughts on the manga in however way you see fit, whether it's in comment form or following this post structure.
3) Somebody should go guess what chapter the title came from. Somebody said this line in the manga.
Name: Father and Son (Chichi to Ko)
Genre: Comedy, Slice of Life
Publisher: Square Enix (JP), Crunchyroll (US)
Artist: Uchiko
Serialized in: Gangan Online, Shounen Gangan
Father and Son Team: Julia Pearse (Translator), Emily Martha Sorenson (Editor), Jason Ingram (Letterer)
Original Release Date: June 1, 2015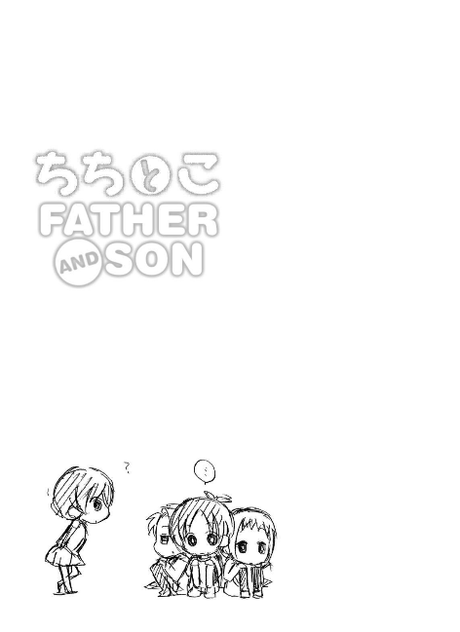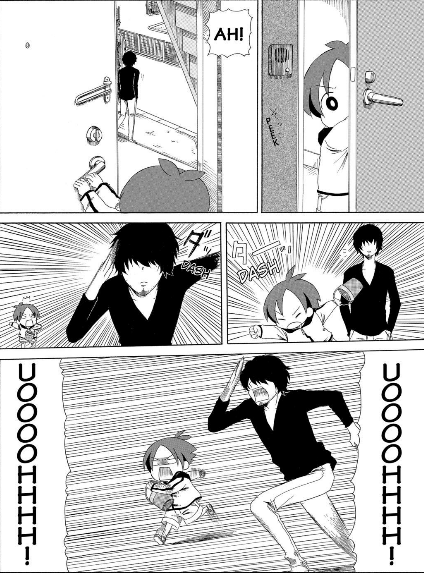 What did you hope Father and Son would be like after reading the synopsis?
Helen: I expected it to be a story about a former gangster who is trying really hard to not be a gangster in front of his son and for the son to be more of a convenient object than a character.
Justin: I mean, the synopsis had a gangster dad with a crazy kid. So it more than likely would be a mashup of something like Bunny Drop and Yotsuba, but with the humor profile of something like GTO or Gintama. It would not be anything like those, but it wasn't going to be subtle or natural with its humor, basically.
What did the manga turn out to be?
Justin: A mostly unfunny comic that focused more on the kid (Shou) than the gangster dad (You) angle.
Not that it doesn't have its moments. Shou managing to "bully" the teacher into depression because of her being single, You going ape on the landlady (or just going ape at the sight of fake blood on him later on in the series), and a few stuff with Shou and You did give me a chuckle. But unfortunately, its first volume (9 chapters with some specials?) didn't really expand on the background of You, has the mom as clueless when it comes to traveling for laughs, and has a fairly weak supporting cast. Well, except for Mu-san. Mostly because he tries to beat Shou in a race for some awkward reason.
Helen: It actually ended up being even more slice of life than I expected and the son is the more important character. There are some chapters that follow the father more but the son hogs the page 60-70% of the time.
Would you recommend it?
Helen: Sure, if you don't like slice of life with comedy you won't like this as much but it's still good for at least a few laughs.
Justin: If you can deal with some of the monotony, it is fine. But I don't feel compelled to keep reading and catch up to what's going on. It's not that gut-bustingly funny like a Gintama, not quite as amusing or endearing as a Yotsuba or Silver Nina. Maybe if it was strictly just a 4 panel, it might've fared better. But it is what it is.