Photo Post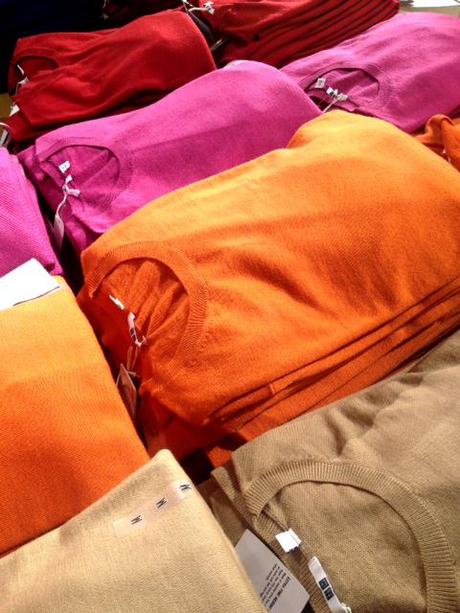 I haven't been blogging that much this week because, thanks to encouragement from some of you, I've been working on the piece of junk Gallerina. If I cut out all of the wailing about myself, my parents, and my ex-boyfriend—which my brother calls an "accumulation of small grievances"—I think it could make for a fun, easy read. Stay tuned, e-book publishers.
Speaking of my brother, we went back-to-school shopping for him yesterday at Uniqlo. Stuprendan has a nice, clean sense of style. Uniqlo has basics at inexpensive prices. He's been shopping there ever since last winter, when we went there to buy some sweatshirts and jeans.
I've talked about it before, but I have this mother lion kind of feeling of protectiveness over Stuprendan. He's 13 years younger than me, and we're very similar. For instance, after an hour of shopping and socializing, we were both so tired that we could barely speak. Like me, he's a lone wolf, content to do things by himself. 
Even though we're introverts, we're still very self-conscious about the way we present ourselves to the world. When I was younger, this was painfully acute. I would agonize for the entirety of August about what to wear on the first day of school. When that day came, I never felt like I had the right thing—the North Face backpack, the Patagonia fleece, the J.Crew shorts, the college-ruled notebook. I never felt comfortable in my own skin.
Which is why I want Stuprendan to feel good about his wardrobe. I want to make sure he feels confident, and self-assured. Shopping with him at Uniqlo, I felt such a heart-breaking desire for him to choose the right things. It was painful, but also nice, to know that he trusted my opinion.
After deciding that slender cut—but not skinny—jeans were the way to go, we picked out a few simple dress shirts. He didn't have enough cash on him to pay for everything, so I contributed the remainder. Even though I'm struggling with my budget right now, I would have given him everything in my bank account, and taken a second job so that he could buy more, if he had asked for it.
It felt good to be selfless, for once. The back-to-school shopping, however, even at 29, was almost unbearably melancholy.