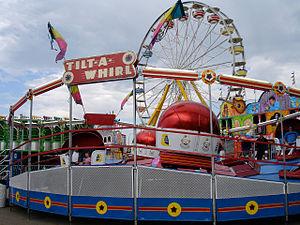 Image from Wikipedia
My recent ramblings Twitter:
My five year old just proved that the middle finger doesn't exist.  Mathematically & anthropologically. #KidIsRight
I have come to the frightening conclusion that school isn't working for Mr. Sensitive.  Bright, funny, social and oh-so smart, five year old Mr. Sensitive is the poster child of the gifted-LD learner.  Super smart, and struggling with letter recognition.  Add in significant sensory demands, anxiety issues, physical mobility issues with a serious medical diagnosis and you have a multi-exceptional learner.
Which means that a one-size fits all, 28 student kindergarten classroom does not work for him.  The noise, the smells, the visual demands of sheer movement alone, never mind all the brightly coloured posters on the wall means every day is like entering a tilt-a-whirl ride and being expected to learn something.
Imagine you're spinning on a carnival ride and a teacher holds up a flash card, demanding, "What letter?  What sound?"  I want to throw up just thinking about it.
But that's what my son faces every day.
Einstein (another super-smart, multi-exceptional thinker) said the definition of insanity is doing the same thing over again and expecting the same result.
So sending poor Mr. Sensitive back to school day after day is insane.  Illogical.  What parent in their right mind would send their child to a place where they fail day after day?
He's hanging in socially.  Mr. Sensitive has made some friends, so we see the social value in school.  He meets kids that he wouldn't meet otherwise.  And we look at school as a place where we have some free childcare respite and Mr. Sensitive hangs out with kids his own age.  He enjoys being part of a group, and talks about playing Batman and Robin, Lego or cars with a small group of boys.
But we decided very early on that school is not a place where he learns. 
Or rather, he has learned that everyone can do things he cannot.  Other kids can read, write, and can sit still on the carpet.  He can't.
In our province kindergarten in a two year program in the public school system for four and five year olds.  When Mr. Sensitive started kindergarten as a four year old we thought he'd do well.  He sunk.  A year and a half later, with intensive support and enrichment at home, we finally got him believing he's smart.  We went through tantrums, tears, and sudden onset of a weird eye tic and bedwetting.
One of the problems we face is that teachers are notoriously bad at identifying gifted and bright children.  Mr. Sensitive's divergent thinking, his scary-smart logic and connections are lost on them.  What do you mean you don't have a background in microbiology so Mr. Sensitive's references to bacteria are lost on you?  Google it.  I did.
At parent interview time the teacher tells me that Mr. Sensitive has a very good imagination.  And he does.  But he also has an amazing memory for all verbal information.  If you tell him once, he will remember it forever.  Trust me on this one.
The really scary part is that he understands what he remembers.  Or at least most of it.  And then asks questions.  Endlessly.
His teacher had no idea that his recall of verbal information was so strong.  I tried to explain about the rocks, and the bacteria.  And I gave up.  She stared at me, blank-faced.
She doesn't see it in the classroom.
She sees a little boy who is highly distracted and well below level for all academics.  He can't read at the level he's supposed to.  He can't write the way he's supposed to.
The teacher looks at me, concerned, "I really don't think he's ready for grade one.  I think he should remain in kindergarten another year.  He can't keep up, academically.  He'd be lost."
Another teacher chimes in, "Those grade one teachers are under a great deal of pressure to get their students from reading level 3 to reading level 16.  You don't want him in that."
I said that he could keep up with the curriculum.  He just can't read or write.
They looked at me blank-faced.  Those teachers cannot separate knowledge and learning from the skills you use to demonstrate what you've learned.  Honestly, you're not really reading for learning in grade one.  And if someone read something to Mr. Sensitive he'd understand it anyway.
"So what about keeping him back in kindergarten part-time, just a trial?" the teacher tried to compromise.
I said I'd think about it.
What's Einstein's definition of insanity?  He's already done two years in the program, and not progressed as well as anyone expected.  Why torture the kid with a third year, albeit part time.
This is one of those inspirational quotes for educators.  I've taken some liberties with I in my title.
"I have come to the frightening conclusion that I am the decisive element. It is my personal approach that creates the climate. It is my daily mood that makes the weather. I possess tremendous power to make life miserable or joyous. I can be a tool of torture or an instrument of inspiration, I can humiliate or humor, hurt or heal. In all situations, it is my response that decides whether a crisis is escalated or de-escalated, and a person is humanized or de-humanized. If we treat people as they are, we make them worse. If we treat people as they ought to be, we help them become what they are capable of becoming."  Haim G. Ginott