Photo Post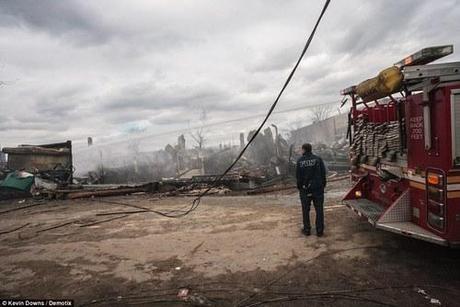 I have been incredibly lucky this past week. The worst thing that happened to me was losing Internet and cable for ten hours during the storm. Even if I were to have lost power, I could have gone to my parent's house. Spending time there is kind of like voluntarily checking yourself into a mental hospital, but they have a generator, and it is warm.
The situation in New York seems every day to get worse. The longer the city goes without power, the harder it will be for things to return to normal. Food is rotting. Gas is running out. People are cold and hungry. Buildings are growing structurally damaging mold. The economy is halted. 
In my bubble, where life has been normal, I can't even imagine what other people are going through. But through it all, I can't stop thinking about how lucky we all are to live in New York. If the city wasn't what it is—an incredibly efficient, diverse, inclusive community—things could have gotten a lot worse. In other places, dark streets would have become violent. There would have been far more looting. Sick people would have been left in hospitals. Families would have been abandoned without food and water.
I am humbled by my good fortune, but here's some reasons why I'm grateful to New York:
1. Mayor Bloomberg: He runs the city like a business rather than a vehicle for personal gain. He doesn't take, or dole out, bullshit. His response to the storm was both efficient and compassionate. He cares about the issues that really matter in America—gun control, climate change, rights for women, gay marriage—rather than issues that win elections. He gave the most eloquent endorsement of Obama.
2. The Policemen: Our law enforcement system isn't a police force. It's a relief agency. It's a small army. It's a counter-terrorism unit. We are so incredibly self-sufficient thanks to how well trained our policemen are—we didn't have to wait for national aid to start the clean-up. And not only are they the best at their jobs, they're also proud of the work they do. Where else in the world are the policemen like that?
3. The Firefighters: If I'm being honest, I'd say that I'm grateful for the firefighters because they are so handsome. 
4. The Upward Mobility of Our Communities: New York is built on the backs of working class immigrants. Breezy Point, an idyllic seaside community, was built by such people: Irish firefighters in the early 1900s. The firefighters of modern day weren't able to reach Breezy Point during the hurricane, when it burned to the ground. A community was decimated. But the Irish have roots all over the city. They can never be eradicated—they are embedded in every neighborhood much like the Jews, the Italians, the Russians, the Chinese, and all manner of other ethnicities. They came here for better lives. They found better lives. Today, and even after the hurricane, New York will still be a better place to live for many, many ethnic groups that also grow roots in the city.
5. The Inherent Compassion Of Our Population: New Yorkers are proud of their "take no bullshit" reputation. But underneath, we are extraordinarily compassionate and caring people. We go to grocery stores, and bring food to people who have been without electricity. We evacuate premature babies from hospitals, and save every one of them. We take care of the mentally ill who were marooned at Bellevue, and make sure that they find safe places to stay.  We take our friends in so they can have hot showers. We volunteer in such large numbers to help businesses, and people who have lost their homes, that agencies are literally turning away volunteers, because there is no work left for them to do. We save drowning cab drivers. We don't see people as black or white, Christian or Muslim, American-born or foreign, rich or poor. We see them as New Yorkers, and all New Yorkers are equal.
6. We Have The Most Talented, Hard-Working Population In the World: This past week, we have combined all of the intelligence, all of the resourcefulness, all of the passion, all of the extraordinary talents that make this city the greatest in history, to help other people in times of great need. In any other city, the landscape would be devastating. Here, we will pick ourselves up quickly, and move on.
It feels good to be reminded of why I am proud to be a third generation New Yorker. Thank you, New York, for all that you do for your people.