"On The Road", Jack Kerouac's 50s novel brought to the screen by Walter Salles (director of "The Motorcycle Diaries"), opened at Cannes to moderate response. The NY Times felt it was a "muted take on Jack Kerouac's ecstatic American story" and the audience apparently gave it a polite applause.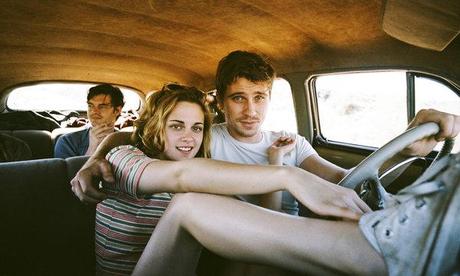 From left, Sam Riley, Kristen Stewart and Garrett Hedlund in "On the Road."
The film appears more than five decades after the novel's publication caused a literary sensation and launched a thousand road trips, not to mention innumerable road movies. Earlier directors had attempted to create a film from the work, including Francis Ford Coppola (listed as Executive Producer on the credits… and I believe the one with control of the film rights.)
Salles interviewed poets Gary Snyder, Lawrence Ferlinghetti, Michael McClure, Diane di Prima and Amiri Baraka, who were Kerouac contemporaries. He also interviewed the Kerouac biographers Gerald Nicosia and Barry Gifford, who served as consultants on the film.
Salles spent eight years on the project, five on research alone… including taking the Kerouac/Neil Cassady road trip (the film uses Kerouac's character names Sal Liberty and Dean Moriarty). Characters based on Alan Ginsberg and William S.Boroughs also show up.
I think this is one of those films where I'll ignore reviews and see for myself.