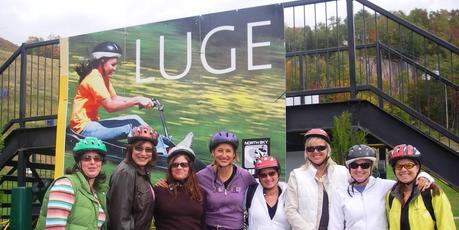 My Friends - Fall 2006, Mont Tremblant, Quebec
So there I was away for a weekend with 8 of my old friends (group name FPU) from high school.  We were at a chalet in Mont Tremblant, Quebec which is a beautiful spot any time of the year.  The first night at the chalet was really special and one that I will always remember.  Of course as it usually goes with a group of women going out, we all went through our beauty rituals and changes of clothes until we looked as good as we could.  Just like back in high school.  Everyone looked fantastic and I must say that the FPU is one fine looking bunch of ladies!  Anyway, after we were all ready we hung out by the gorgeous fireplace in the living room and had some wine.  We had a dinner reservation for later but we needed our pre-dinner cocktail hour first and foremost.  At one point our FPU president (yes we have a president) called for everyone to pay attention and then she addressed me and on behalf of all the girls she presented me with some wonderful gifts.  I was totally surprised and very touched.
It was completely out of character for me but I just started to cry and I didn't know what to say.  I just kept looking around the room at my old friends.  I was thinking to myself, "There are nine of us here".  Statistics say that one in nine women will get breast cancer – I guess I'm the one in this nine.  I certainly wouldn't wish it on anyone else and I guess I could be asking "why me?" but maybe a better question is "why not me?"  I figured I could handle this and I was ready to fight this with everything in me.  I am strong and I am woman hear me roar!!!  Okay a bit over the top there but you get my drift right?  I was feeling so blessed at what wonderful friends I have had for so many years.  The rest of the weekend was an absolute blast and of course what happens in Tremblant, stays in Tremblant.  Wink wink.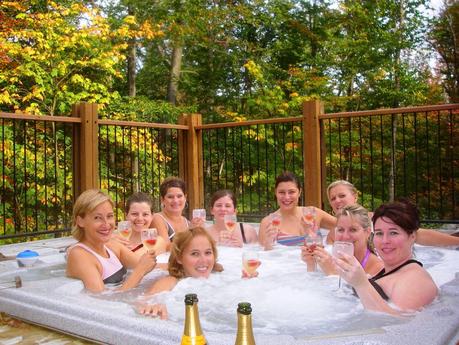 Enjoying Tremblant - Fall 2006
When I returned back home after that fantastic fall weekend, I spent a lot of time thinking about our conversations.  I wondered how I would have felt as part of the FPU if it wasn't me that this cancer was happening too but one of them.  How did it make them feel?  Did it scare them or would it make them feel differently about me?  I guess I always have this feeling that you should tell people that are important to you that they are indeed important to you.  That they matter.  I did the same thing after my Mom died.  I wrote a letter to the FPU girls that were sharing a big house in Toronto at the time and told them how I felt.  I think losing someone so close to you really makes you realize how quickly life can change.  I just never want to regret not telling people how I felt about them but at the same time you don't just call up your friends and say "I love you and you are an important part of my life."  They would probably think you were going off the deep end.  Of course there is always the drunken "I love ya man!" but who remembers that the next day anyway?
I took some deep breaths, swallowed that lump in my throat and made a decision.  I decided to write to everyone to let them know that they mattered to me and that I although I was being as strong as I could, I still needed to know my friends were there and were contributing to my optimistic outlook on life.  Plus I wanted to say thank you for the gifts.  So I sat down and composed an email.  Here is part of that message: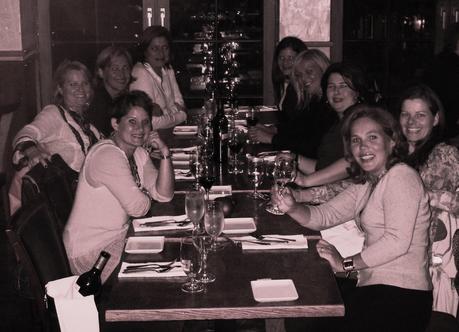 Hey Ladies - I had a fantastic time this past weekend.  I am so blessed and lucky to be part of such an amazing group of women.  Friendships like ours are lasting and meaningful.  Although some of us are geographically challenged when it comes to getting together, I always feel that we can pick up where we left off with no problems.  The weekend to me was about friendships and women and how we can all come together to discuss an issue, laugh at an embarrassing story or just feel comfortable enough to cry together.  In her book, Dr. Marla Shapiro refers to her female friends as her "board of directors" and that they can come together for meetings when the need arises.  I guess that's kind of like the FPU.  I also learned so much from you all this weekend.  I learned that.............
It doesn't matter whether you've adopted or given birth to your child or babysat a niece or nephew, we have all had poop issues.

Eating blueberries daily may just add some years to your life. 

Even Italians buy sauces already made. 

You can be a lady and still dance like a ho when the mood strikes you. 

Unselfish acts like growing your hair for cancer patients is just so totally amazing. 

White leather and high heels can survive an unexpected ditch without too much damage. 

You can still get dragged out of a bar at closing time at the age of 40 and survive the hangover the next day. 

Even when you think it's not a good time to be away from home you do it anyway in the name of friendship. 

When you are overcome with fear, sadness, hope, uncertainty, thankfulness, love, optimism and the closeness of a group of female friends that have known each other many years, it's okay to cry and not have any words and feel your heart about to explode.

Friends are unique, always there no matter what, accept your faults, applaud your successes, feel your pain, acknowledge your difficult times and stand by your side to offer support when you need it the most.  They do this individually and as a group.  Sometimes they listen and sometimes they ask questions.  Sometimes they don't shut up and sometimes they let you be.
I was heading towards chemo treatment #2 feeling stronger than ever, with a little help from my friends.
With A Little Help From My Friends - Joe Cocker