My wife and I are both Air Force veterans. We met and married at Bitburg, Germany, while assigned to the 36th TFW. I made the Air Force a career. My wife, an Air Force nurse, helped save my life, then raised our two boys.
I volunteered for Vietnam after my assignment to Bitburg. I did so because I had friends, guys like myself in their early twenties, putting their lives on the line to serve their country. News was coming back to us that some were KIA or MIA. I felt a need to serve, as they had, and to honor them in doing so.
I had one particularly good friend — let's call him 'Dan'— who was shot down and spent 6 years in the "Hanoi Hilton." When the war was over, he transited Hawaii, where I was stationed at PACAF HQ, and spent an evening with us. We had music playing. He asked me to turn it off. He'd been beaten so often and so severely that what we heard as music was just a cacophony of noise to him.
As it turned out, the Air Force had other plans for me, and I didn't end up going to Vietnam. I was afforded the opportunity to go back to college for an advanced education, and retired from the Air Force twenty years later with a PhD, and without the lining around my heart, which had been stripped during my assignment at Bitburg. I was probably the first Air Force officer cleared for worldwide duty after undergoing such a procedure.
I was lucky. So many of my generation weren't. They gave the "last full measure of devotion" to their country — those who died, and those who live afterward with the scars of their service forever etched in their psyche.
I haven't the words to express my emotions when hearing of Donald Trump's disdain for our military, now an all-volunteer force. He will never understand, "what was in it for them," because for him sacrifice is a sucker's bet, and my friend Dan was a "loser," because like John McCain, he got shot down.
I simply don't have the words.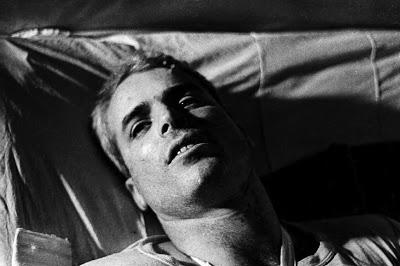 John McCain, August 29, 1936 – August 25, 2018