It's been quite a year being a curriculum director at a new district, especially with some of the duties of educational technology landing in my office.  I am not only new to how PARCC testing is run, but I am also not used to learning all of the technology required to implement PARCC and other assessments - this includes MAP testing (new to my district this year), ACCESS testing for our ELL population, and the state Science Assessment in grades 5, 8 and high school.
Frankly, it seems like my life since January has been one long series of batch file uploads and data integrity checks.
I have to get out the craziness that has been second semester somehow, but I don't have any more words.  As my assistant can tell you, I barely speak in complete sentences these days anyway.  (It's usually me shuffling through some sort of user manual and then saying, "OK.....OK...then we have to...........OK" and then getting up and leaving to wherever my brain just told me to go.)  Because I probably can't connect too many more sentences together coherently, I'm just going to tell my semester's testing story in memes.  Why memes?  Because memes are freaking awesome.
January:
I quickly found out where my priorities were.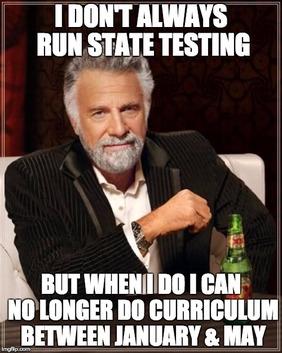 February:
So much data.  So much wrong data.  So much data we thought was correct...but was wrong.  Many confused PARCC newbie calls and emails to the state and Pearson ensued.
​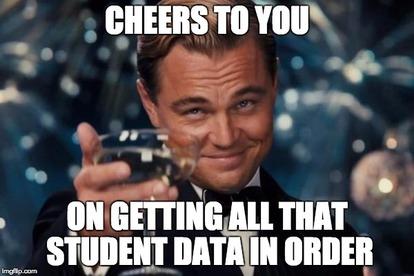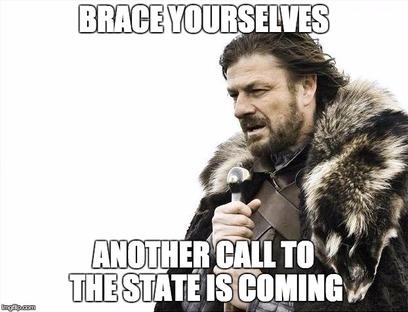 March & April:
Let the testing begin.  We used every device we could get our hands on, including iPads.  The iPads quickly become the most hated testing device due to all of the tantrums they threw when running the testing app.  One teacher said I should assign them to any teacher who complained about testing (and actually sent me the meme below).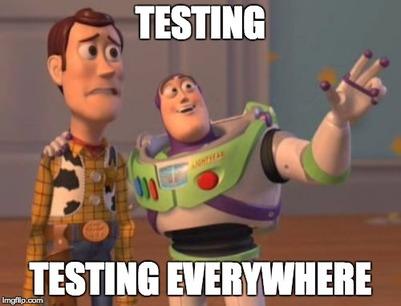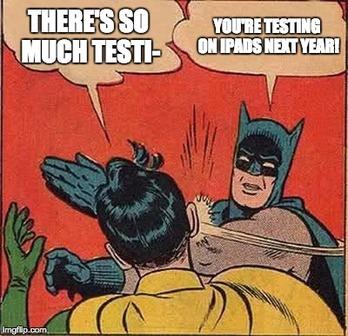 May:
Months of testing has affected my brain.  But I emerge victorious.  And still alive.
​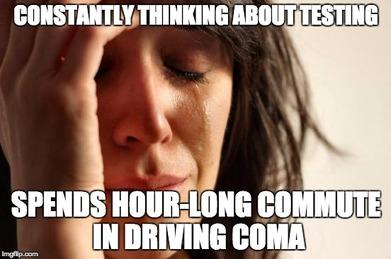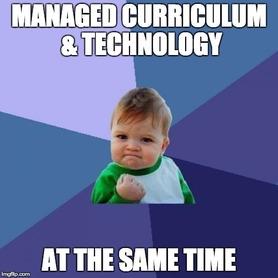 But then I found out it never ends.  Never.  Not in Illinois, anyway.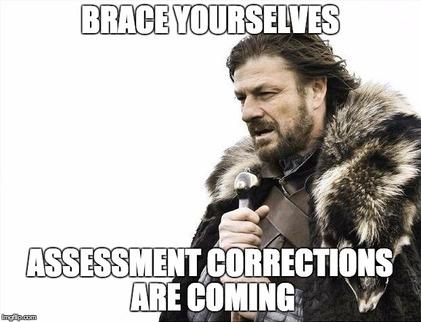 ​(By the way, please don't think I'm making light of what the students have to go through.  I hate standardized testing of any kind and what it does to students, so it's one of life's little ironies that I have to run it this year.  But it's been such a nutty crazy year managing the tech, assessment, and curriculum sides of things, my only outlet at this point is humor.  So please...see the humor and humor me.  And don't think that I didn't enjoy the job - while it's been a whirlwind of testing craziness, I think I've had the most fun this year than I've had in many, many years....because I got to learn all sorts of new stuff and work with some great people who tolerated me not finishing any sentences and scampering off to places unknown.)