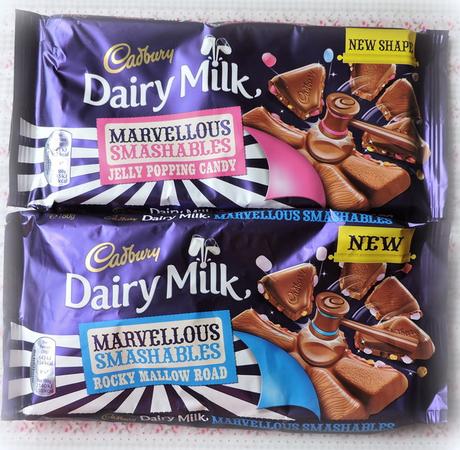 I do get sent the nicest things.  Look at what dropped through my letter box recently!  Cadbury's latest smash hit . . .  Cadbury Dairy Milk Marvellous Smashables!  These two new bars are available in two deliciosu flavours;  the ever popular Jelly Popping Candy and the all new Rocky Mallow Road.
Cadbury Dairy Milk Marvellous Smashables are the perfect sharing treat for all the family to enjoy.  The bars have a completely new and unique design, which has been created to make them easy to smash in the middle and then break up into fun shaped pieces.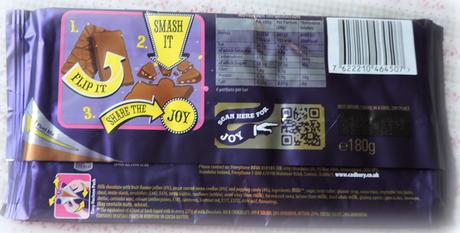 Simply flip the bar, smash in the center and share out amongst loved ones and friends  . . .  or use as a fun family game whilst watching your favorite Saturday night TV shows!
Brand new Cadbury Dairy Milk Marvellous Smashables Rocky Mallow Road is filled with an assortment of delicious flavours including mini-marshmallows, sweet strawberry flavoured jellies and crunchy biscuit pieces (yum!0 topped with a layer of Cadbury Dairy Milk; a bar which is sure to send your taste buds into overdrive.  This new delicious bar is joined by the much loved flavours of Cadbury Dairy Milk Marvellous Smashables Jelly Popping Candy, which combines smooth Cadbury Dairy Milk with chewy jellies, colourful sugar coated cocoa pieces and curiously crackling popping candy.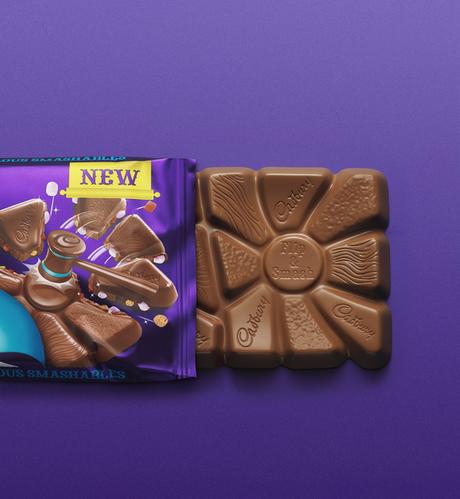 Matthew Williams, Marketing Activation Director at Mondele International said:  "The new Cadbury Dairy Milk Marvellous Smashables range is a really fun and exciting addition, especially with the new Rocky Mallow Road.  We know how important family time is and we really wanted to introduce a joyful ritual that everyone can enjoy." 
Movie Night just got a whole lot better!   The Toddster has really been enjoying this, while I look on with longing . . .
Cadbury Dairy Milk Marvellous Smashables are available in 180g family sized bars with an rrp of £2.49 and in the smaller individual 47g sized bard with an RRP of £0.61.
For more information visit www.cadbury.co.uk
Find them on facebook at www.facebook.com/CadburyUK
Tweet them @CadburyUK