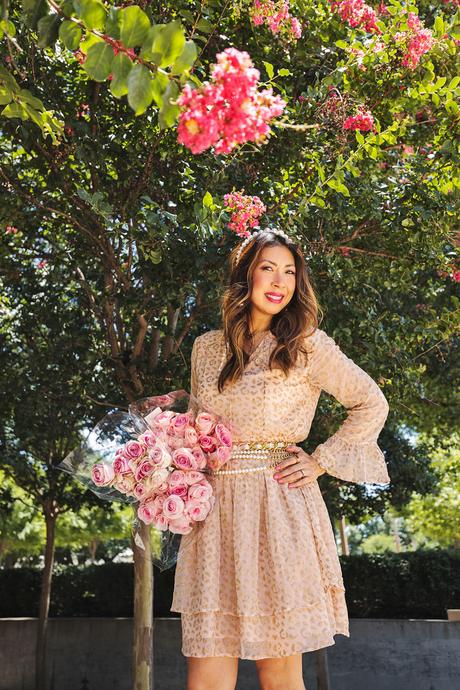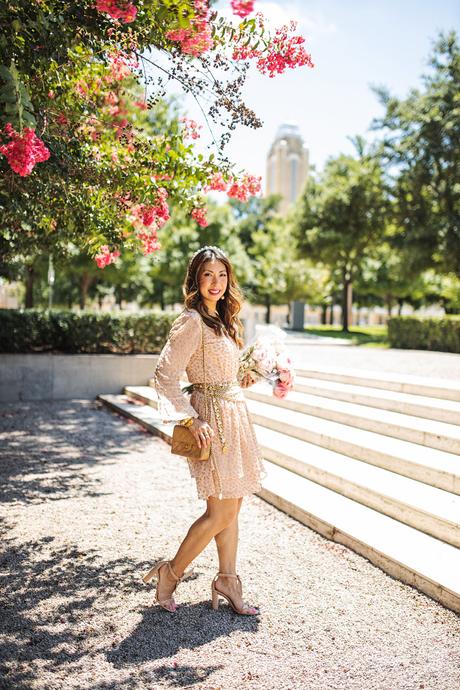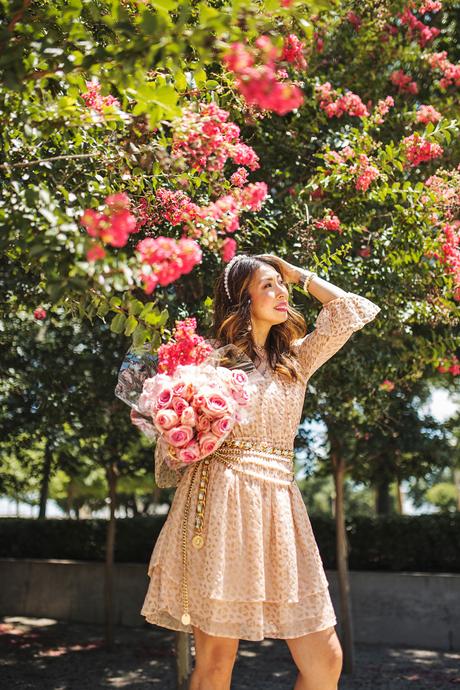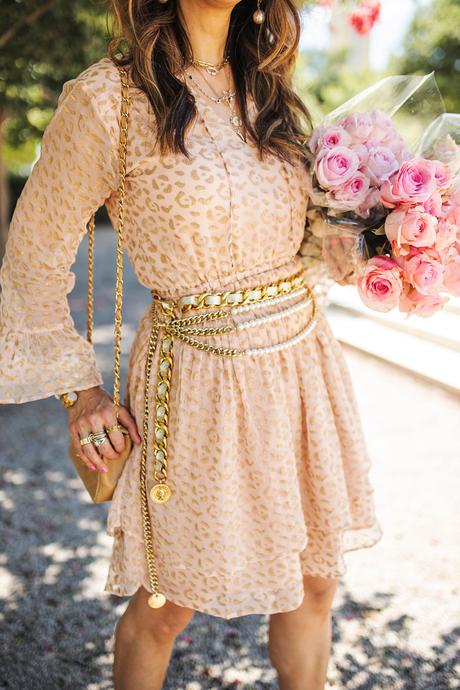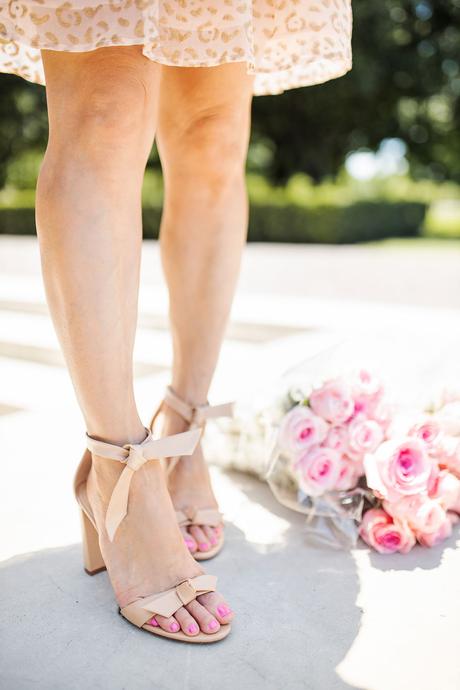 I'm SO EXCITED and PROUD to share this collaboration with Symbology Clothing. I hinted that something was coming in this blog post highlighting the brand. Marissa and I have been chatting, planning, and discussing since December. COVID delayed production but it was so exciting to finally see the sample! And now the dress is HERE on the website! I co-designed a sustainable dress with Symbology!
Let me take you on a quick journey of how the dress was made!
THE PLANNING
Marissa and I grabbed coffee at Avoca to chat about what it meant to collaborate on a design. She wanted to create a dress for more petite women since her gorgeous and much-loved wrap dress (see this blog post) can be a little long on shorter silhouettes. Immediately, I knew it had to have a cinched waist and possibly knee length. She shared that leopard print was a new block print Symbology was doing for Spring, and I asked if it could be metallic as I had seen on some of the other dresses in the store. We discussed necklines and sleeves. It was a lot of fun discussion and brainstorming and we landed on a design. Marissa drew up what we discussed, and it was exciting the see the sketch.
THE PRODUCTION
Marissa travels to India and is involved with the different parts of the dress creation. She employs artisans with fair pay empowering them to provide for their families. Most of it takes place in small towns around Ajmer, on the outskirts of Jaipur, India, which is a desert region. This helps a lot with the drying process which you'll read more about later.
First, the fabric is sourced. This dress is made with plant-based chiffon. The material is hand-dyed with AZO-free dyes (carcinogen free) and laid across a drying rack in the sun.
Next, Asha, a master block printer (6+ years of experience) prepares the material by placing it on a 6-meter long table and pinning taut. She uses a 6'x 6′ block dipped in vegetable dye and stamps one by one starting at one edge then across. It takes about 15-20 minutes to complete a whole table if just one color is involved. After stamping is complete, it is dried in the sun to help set it and also has an antibacterial effect.
Then, the materials are taken to the suppliers' workshop in another town. There a master pattern maker creates the pattern from the sketched drawing of the dress. He also grades it by hand for 6 different sizes (XS-1X). Shanaz is one of the regular "stitchers" who sews together the dress. After creation, it goes through quality control, etc.
And VOILA! A beautiful dress is made that employs the hands of 15 artisans and benefits their families. (Here are the breakdown specifics: 3 dyers, 2 block printers, 1 pattern maker, 5 stitchers, 2 quality control managers, 2 for ironing and packing)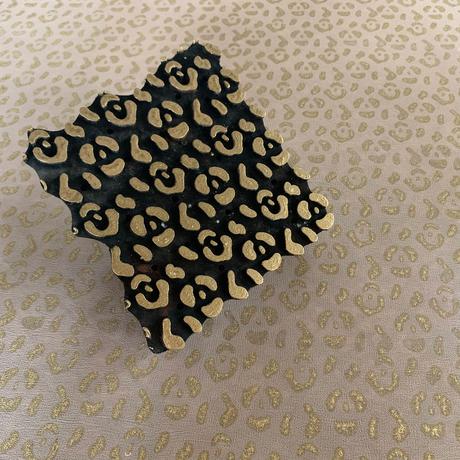 THE INSPIRATION
Two words. Fierce and Feminine. The leopard symbolizes physical strength, power, and confidence. The leopard print coupled with beautiful blush pink, gold metallic, and airy chiffon makes a perfect pair and complementary mix of strong and soft.
THE STYLE Rx: Keep it flowy, fierce, and feminine this season with a dress that's easy to throw on and can take you from casual to dressy in a second.
THE DRESS
And now let's get to the most exciting part! I present you with the leopard chiffon dress in blush and gold which features an elastic waist, bracelet length sleeves with a ruffle detail, and double layered skirt. It's lined in cotton, and the split neckline can be tied closed or left open for a v-neckline. I'm wearing a size SMALL. For reference, I'm 5'4″, dress size 2-4, and size 26 jeans.
HOW TO WEAR IT
SIMPLE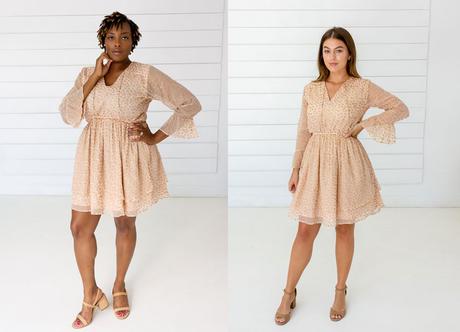 The models are wearing it so beautifully with just tan sandals.
SPRUCED UP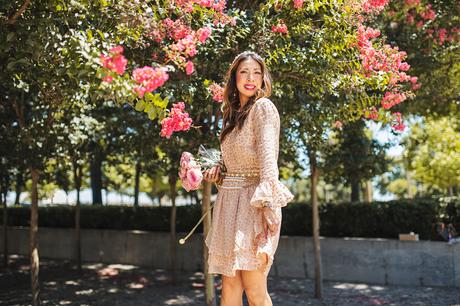 OVERACCESSORIZED? Yes! LOL! I tend to that when I'm really excited about something. Pearl headband, pearl belt, a beige bag, and heels were a girly girl's accessory match made in Heaven!
SPORTY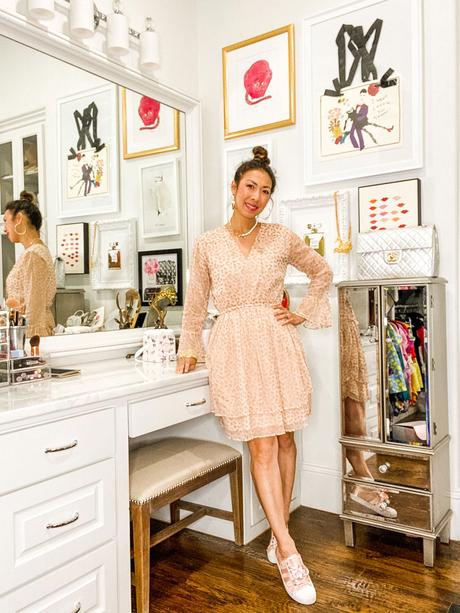 Also, this would be a great dress to wear with sneakers for a fun sporty look.
HOW WOULD YOU WEAR THE DRESS?!
Happy Thursday GlamFam! Hope everyone is doing well! The kids have been getting swim lessons, and Little M is making so much progress. Baby M seems so terrified, and it reminds me of myself when I took lessons. Poor thing breaks my heart. I really want them to be able to find the wall if they fall into a swimming pool by mistake. I've distanced myself from the crazy news and have been reading The Skimm instead. However, I have continued to read and seek information to understand the inequalities faced in our current social systems. These are such crazy times, but I am hopeful that things are changing for the positive for Black Lives and COVID. Let me know how you are doing.
Thank you so much for stopping by and supporting SOS!
CHECK OUT MY INSTAGRAM SHOP HERE TO SHOP ALL OF MY INSTAGRAM LOOKS!
// STAY CONNECTED //
stay glam, do good