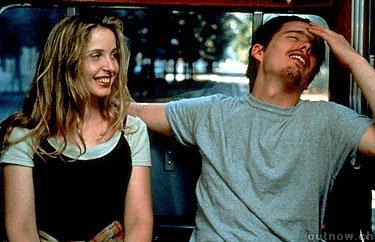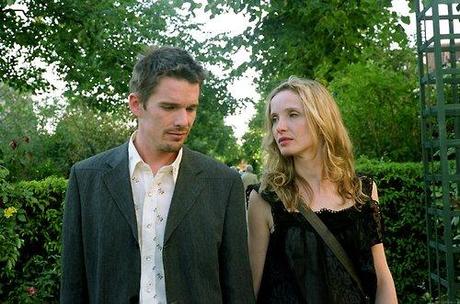 I can only begin this with a question as to whether there is a more perfect on-screen couple than Ethan Hawke and Julie Delpy? She is all I ever want to be, and he is everything a smart girl could ever want. So the answer is no, few and far between, can two do it better than this pair.
I wanted to do a post about the best films to inspire travel, but I felt Before Sunrise and the sequel, Before Sunset deserved their own category. You know there's something brilliant happening when the sequel is on some level even better than the original. Even though both are shot in real time, there's so much going on throughout, its impossible to articulate everything Delpy includes in the writing. Elements of traditional French existentialism, of course, but also the most unsentimental and perfect look at love and relationships.
Both films are the most laid bare example of connection between people.
Before Sunset examines the idealism of young love, without ever being even slightly maudlin, as Celine is too quick on her feet to ever let a scene get too sloppy. Jesse has moppy hair and an innocent way of being completely honest and impractical at the same time. But you love them so much, you want them to ride a train around the world together. But instead they part ways on the Vienna train platform—she to Paris, and he back to America.
It's eight years, several relationships, a marriage and a child later in Before Sunrise, where Jesse and Celine meet on the Parisian leg of his book tour at the well known Shakespeare & Co. (where Celine says, "I love it there, but there are fleas"). They're adults now, less free, but no less charming. With little time to catch up before his flight back to New York that evening, they head off to a cafe, followed by a visit to some nearby gardens, a touristy boat ride along the Seine, where a town car is waiting as they dock to take Jesse to the airport. But first, they drive to Celine's apartment to drop her off and on the way divulge how miserable their lives are to each other. "The idea that we can be only in love with one person? It's absurd! It's evil!" Celine tells Jesse she doesn't feel things for people, no connection, no excitement - no doubt, stirring the emotions of everyone in the world who feels the same way, yet can't articulate it. He says he's done what millions of other poor sods have done: met a pretty girl, married her. Ended his life and dried up his hope of ever feeling anything again.
The most enchanting scene of a romantic film about life and the people we meet, and the what-if scenarios that could be possible every single day, is at the end in Celine's bohemian apartment, which Jesse walks around imagining himself living in. He asks her to play him a song and this could be the cringe worthy (as every scene thus far, is ingenious)—but her sitting there across from him, strumming a guitar—it might end in disaster. Except its beautiful, girlfriend can sing, and Jesse is swept, as is the audience. Then for an encore, he throws Nina Simone on the record, and she dances and does her best impersonation of the late singer performing at a concert. There's no way he can leave now.
It's perfect.