I want to have a bicycle with a big basket in the front that will always be filled with fresh flowers and then I would roam around town (preferably somewhere in old European towns), all day long, just enjoying life. I love sunny summer colored flowers, especially canary yellow, also purple orchids and all shades of orange. Not so much a red rose girl, nah! I have a fascination with old French doors and windows, sometimes I spend hours on Google just looking at old French houses, perhaps I was a French architect or a French poet in my past life, or so I have myself believe *smiles.
I do sometimes wish I had a huge metal hanging bird cage with a singing canary inside it, but then I realize that I probably will become very sad just looking at the bird in the cage. I like to believe a bird has to fly and that is the end of discussion. Oh! And I have a deep seated love for the comfy love-seats and soft fabric sofas, just give me a book, a café mocha and I am ready to lie down with a bunch of cushions and me. Yeah! I have recently started feeling, I am a very private and solitary person, who cherishes and enjoys her own company. Always thought I was more of a people person, maybe loneliness isn't so much of a fear but a pleasure I enjoy from time to time. God! I am seriously getting old *says the 28year old! Ha-ha...
I love water! And all things aquatic, just couple of month's back I got to go snorkeling for the first time and it was majestic! I also feel things feel so much happier with a splash of color. Black and white is romantic after sundown but color me up for a sunny day. I wish there was a fest where everyone would gather and color the Eiffel tower, with a lot of wine and cheese later, would be a lot of fun! And talking of Eiffel tower, so many people are scared of heights, not me, I am shit scared *spare my choice of words* of giant merry-go rounds and steep water slides, hell yeah! Phew! Oh, since I was a kid, I love to make those DIY marble paintings, remember? Pour some fabric paint in a dish filled with water, dip the paper in- out- let it dry and Voila! Love those. And talking of colors, I am an addict for colored sneakers, if it were my way I would own every color available.
I love wall papers and rooms filled with handmade crafty paintings and wall hangings. And one day I want to buy the costliest and dreamiest canopy bed available. Yup, also the biggest, with lots and lots of sheer curtains trailing around in pretty pastels *dreaming already. What can I say; I am a day dreamer, a dream weaver. I am what I am! Be yourself, be awesome!! Have a fabulous weekend. Much love to all. xx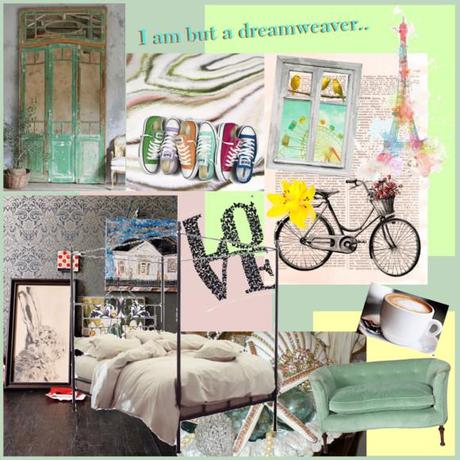 I am what I am
by
stylescribbles
featuring
summer scarves