While it is just as much a surprise to me as it is to you, I have been named as a "super (role) model" by my friends at 4all! Here's a screen shot from the e-mail they recently sent out: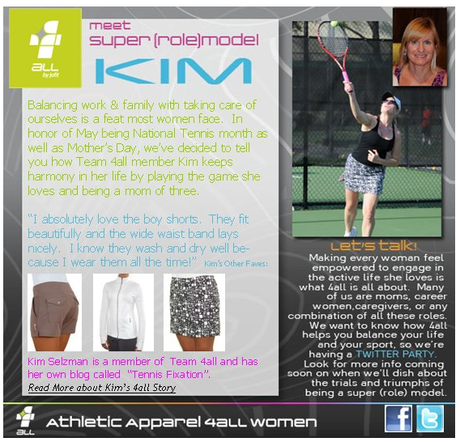 And you can check out the whole interview by clicking here: Meet Super (Role) Model Kim. You definitely need to read this interview where I finally reveal my secret for juggling work, family and staying on top of my tennis game. Hint: it involves food. Other hint: it involves not actually having a job.
My 4all interview comes just in time for May which, as WE all know, is National Tennis Month. It's also when Mother's Day falls and I think those two things are what the 4all team was interested in. In other words, when they went looking for an official "tennis mom," guess where they came? Right here! To

Tennis Fixation

!
So to celebrate National Tennis Month and my long overdue recognition as a leading tennis mom, I am going to have lots of giveaways throughout the month of May. And one of them will be for a fabulous piece from the 4all London collection (a collection I happen to love since its all pink, purple, black and white). The giveaways will start on Sunday, May 1, so be sure and check in on that day and throughout the month of May because you will not want to miss out on all of the great tennis items you could win during

Tennis Fixation's Super Giveaway Extravaganza Month!

I'm pretty sure this is the kind of thing tennis role models do.


© Kim Selzman 2011 All Rights Reserved