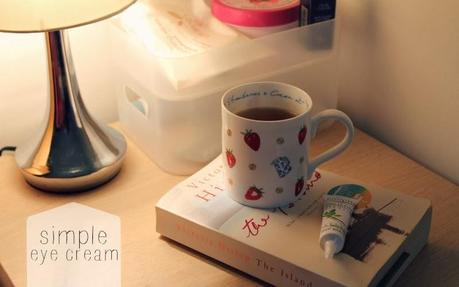 I have the eye bags of a 'much older person' according to a consultant I saw last month. Well... let me give you some background info. For years now I have been self-conscious about the veins around my eyes - like my Mum, I have noticeable veins that run around and under my eye bag, in particular on my left eye. I've noticed in the last year or so that these have progressively getting worse and more visible. Now, make up covers them up. But as we all know applying makeup around your eyes is a delicate procedure, and can lead to further thinning of the skin around the eye. So, I've got a vicious circle going on here! I cover them up, but as I do so I am further damaging and thinning the skin. I decided to go to see my Doctor, who referred me to an eyelid specialist. She told me the skin around my eyes was that of a 'much older person, someone middle aged and over'. Wow, cheers love. Now the worry for me is the vein surrounding my eye, like my Mums, is varicose - at some point it will become enlarged and swollen. Obviously this is fairly unsightly (it goes round the outside of my eye (bag?!) and loops round underneath) but also could be a worry health-wise. After multiple appointments, letters, and various referrals it seems I don't have many options for my fairly rare issue. One of which is for the veins to be 'stripped' like they do varicose veins elsewhere on the body; laser treatment is considered too dangerous being near the eye. Yeh, it sounds gross, right? Not too keen on that right now.
Well, what does this mean for me on a day-to-day basis? The veins around my eyes are very noticeable without makeup, meaning I have to apply foundation and a good concealer around my eyes to try and conceal them. I also have large bags. Ha! Like my mom I have fairly puffy eyes and constant droopy bags, no matter how tired/awake I am. I'm 26 not 46, and this is a constant source of irritation and anxiety for me, no matter how much I try to not let it affect me. "But I've never noticed them" I hear you cry... well, I have a small confession to make. I admit, I sometimes airbrush my eye bags out of pictures. The shame!
One tip given to me by my consultant was to start using an eye cream morning and night. This will help hydrate the fine skin around my eyes, help to reduce dark circles and stop the itching I get as a result of thinning skin. I picked up

Simple's Soothing Eye Balm

with my Boots points the other week to help soothe the itching, which has been great. It's soothing and hydrating without being heavy or greasy, and at £3.99 it's a bargain.
Can you recommend a good eye cream?