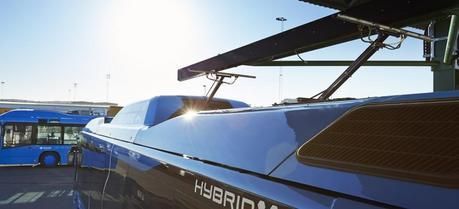 Volvo hybrid electric bus during charging in a garage. (Credit: Volvo Bus Corporation)
Volvo, SL (Stockholm Public Transport) and a Swedish power company Vattenfall are going to evaluate the performance of hybrid electric buses in regular bus traffic in Stockholm. A field test involving 8 hybrid electric buses will begin this fall.
This is part of Zero Emission Urban Bus System (ZeEUS), a EU which pools the expertise of more than 40 participating companies and organizations. ZeEUS covers innovative electric bus solutions with different electric powertrain systems to be demonstrated in 8 cities: Barcelona, Bonn, Glasgow, London, Münster, Plzen, one city in Italy (TBD) and Stockholm.
SEE ALSO: Mathematical Model Minimizes Electric Bus System Costs
"A modern and extensive public transport system is essential in order to meet today's and tomorrow's environmental and sustainability targets. It is extremely gratifying that we now have the opportunity, as part of SL's regular operations, to try out the very latest technology for further reducing our already low environmental impact," says Christer G Wennerholm, Traffic Commissioner and First Vice President of Stockholm County Council Executive Committee.
As of this autumn, eight Volvo electric hybrid buses will be put into regular operations on SL's Route 73, which goes through the heart of central Stockholm. The project will last until the end of 2016, after which the aim is for the project to continue as part of regular commercial operations.
The hybrid electric buses are fitted with an electric motor that is powered by lithium batteries. It also has a small diesel engine. The battery pack is quick-charged at the both ends of the route. Charging takes about 6 minutes. With fully charged batteries the buses can cover seven of the route's eight or so kilometers (4.35 of 4.97 mi) using electricity, driving quietly and with no exhaust emissions. Compared with conventional diesel buses, the electric hybrids have 75% lower fuel consumption and a similar reduction in CO2 emissions. Climate impact is reduced even more as the buses will run on biodiesel. With electricity consumption included, the total energy savings are about 60%.