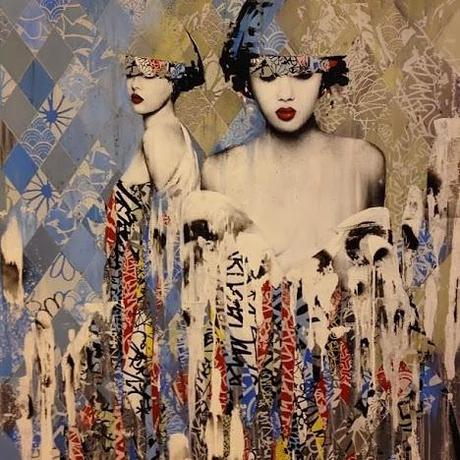 Lauded worldwide for his passionate canvases and murals, Fatales sees Hush's work evolving beyond his trademark portrayals of Japanese subjects. Whilst the Manga-influenced Nipponettes that made his name will still feature, Fatales also includes portraits of modern-day European seductresses.
Hush's vamps are simultaneously imposing and compelling, alluring and unobtainable. They have no skin tone and their features are blanked out, producing a confrontational avatar of female sexuality.
The show will feature twelve paintings in Hush's sought-after lavish style, ranging from one and a half metres square to miniature works. Some smaller pieces will be editions of two, and the exhibition will also feature sketches giving a glimpse into the complex technical approach the Newcastle-based artist employs.
The seemingly collage aspects making up the backgrounds in Hush's works are actually painted and screen printed. "My methods involve action painting and 'pure expressionism'," says the formally trained artist. "My 2000 square feet studio is covered in canvases and paint. I go through all these different vibes in the studio, covering the canvas in paint, throwing my tags and dabs on it… it feels like the action painting movement at that point. I'll also place tags of people I've met and who've influenced me. My previous activity informs the next, so Fatales features tags from New York. A tag is an expression of action painting, if you want to through the theory of why people do tags."
Perhaps the most potent aspect of Fatales though is it's thoroughly sexy but, in its own way, ultimately unisex. "Street art can be seen as masculine, aggressive and disruptive," says Hush, "But add a female form and it can be beautiful."
Scorpio will indeed be rising for the opening of Fatales early this November.
HUSH: FATALES opens Thursday 31st October from 6 – 9pm at
the Outsiders Gallery.