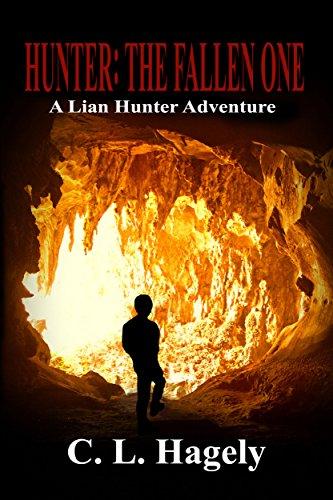 Hunter: The Fallen One (A Lian Hunter Adventure)
By C.L. Hagely
199 pages | October 31st 2016 |  Rogue Phoenix Press


A hostile takeover of earth is unfolding secretly right before our very eyes. Is this a political move, or is something much more ancient and sinister at hand? Mystery schools were formed by the elite to train soldiers to further their agenda.
Lian Hunter is a freshman at one of these schools for the exclusively wealthy – the Tri- Asterisk Academy in the heart of downtown Los Angeles. When students start suddenly disappearing, Lian starts to feel something evil and corrupt underlying the veneer of the academy. Can he uncover the truth about his school before it is too late or is he just another soldier in training?



I want to start by saying I was given an e-copy of this book by the author in exchange for an honest review.
I'm extremely sorry to say that I did not love this book. I wanted to, I thought from the sound of the description that I would enjoy but reading it from start to finish, proved me wrong.
It had the perfect Young Adult formula. Regular, successful kid who unwillingly becomes involved in something extraordinary and has to find a way to overcome it. It should have worked, but it just didn't.
Starting off, visually I wasn't intrigued. A simplistic cover is fine however the fonts and the colouring of it all together simply didn't work. I looked at it and thought it appeared like a 1990s drugstore paperback thriller for a missing child.
It didn't scream a Young Adult futuristic action thriller, nothing about looking at this cover told me anything the book was about.
It's not visually appealing, if I saw this book on the shelf or scrolling through Amazon I would never have stopped to look, I wouldn't have thought to even stop and check it out.
I typically love stories that begin or revolve around a mysterious school but this wasn't well executed. I feel like it wasn't beta tested on anyone in the age group. It had the cover of an adult book, the prose of a child's book and the dialog was off-putting. It didn't read naturally, it read forced. A lot of detail seemed to be missing and we were expected to fill in the blanks which often times, can be a useful tool but here it wasn't.
I think this book, which is the first in a series, could have potential with rebranding. Some beta reading, new graphics, a re-write with more details. I'm a huge supporter of Indie efforts but there has to be a level of 'professionalism' visually for it to succeed otherwise I find readers and the market do not take it seriously.
For now though, I simply couldn't recommend this book.



*No Author Information Available 
Twitter - Website - Goodreads - Facebook