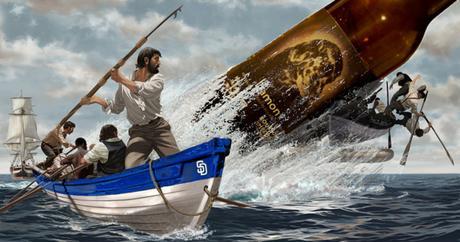 Last month we took a look at 2016's best beers as selected by writers, bloggers and beer enthusiasts.
Today, we step it up to an annual celebration of "best" by one of the Internet's main beer reviewing websites, RateBeer. The site recently held their annual RateBeer Fest where it released a collection of best beers of the year , according to the reviews of users and weighted by performance within and outside of style.
As in years past, the list of 100 beers offers a good opportunity for analysis, especially as we gain a better understanding on the psychological impacts of choice when it comes to beer and perception of quality. This collection may not break new ground in terms of better understanding trends, but it does offer insight into preferences and beer culture.
So grab your abacus and put in your pocket protector, because it's time to crunch some numbers.
For reference, here's how the 100 beers sorted out by style: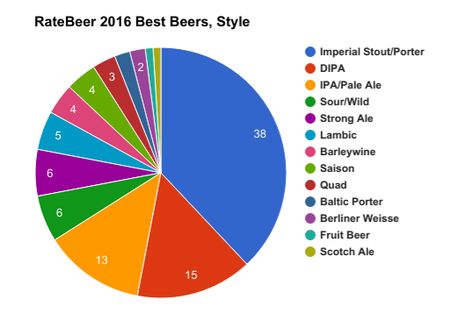 Housekeeping note: I combined three imperial porters with 35 imperial stouts for the above chart. The three were made by Funky Buddha (Morning Wood, Snowed In - Bourbon Barrel, Wide Awake It's Morning) and play very close to imperial stout ( see this post for more). In terms of this list, they fall right within imperial stout wheelhouse in terms of ABV (10 to 12%) and flavor profile (adjuncts and barrel aging). I also combined three pale ales with IPA because the pale ales (Three Floyds Zombie Dust, Trillium Fort Point, Trillium Fort Point - Double Dry Hopped) are either an IPA in pale ale clothing or could be classified as a New England IPA.
With that out of the way, it's worth noting that for the most part, the breakdown of styles hasn't changed a ton over the last three years with one exception: the powerhouse that is NE IPA. Take a look at the most popular styles from 2016 charted during this timeframe. The styles of imperial stout and IPA have been left without additions mentioned above for most accurate comparison:
By my count, there were 19 pale ales, IPAs and DIPAs that would be classified as NE IPA included in this year's list. Of the 13 beers that fall under pale ale or IPA, Zombie Dust would be the only brand that wouldn't be considered NE IPA. How does this change reflect taste preferences in recent years? Here's a selection of IPAs that have fallen off the RateBeer "best" list over the last two years:
AleSmith IPA
Alpine Beer Nelson IPA
Alpine Beer Exponential Hoppiness
Ballast Point Sculpin IPA
Firestone Walker Double Jack IPA
Firestone Walker Wookey Jack
Grassroots Legitimacy
Hill Farmstead Friendship and Reunion
Hill Farmstead Susan
Lawson's Finest Sip of Sunshine
Maine Beer Lunch
Trillium Fort Point Pale Ale - Galaxy Dry Hopped
Some incredible beers, to be sure. The reason for disappearance for some is easy, including those by Hill Farmstead, because they simply aren't made with regularity. The others represent profiles of the IPA style that may be less popular with the the beer lovers who use RateBeer. It seems crazy that beers like Sculpin or Sip of Sunshine have gone away, but that's what happens when you're working from the lists of the geekiest of the beer geeks.
Yes, it's a very small subsection of drinkers, but it *is* worth taking into context, that NE IPA is what they're after and some of these defining beers of the style are no longer playing as well to this subsection of drinkers. It certainly makes it all seem far detached from normal consumers.
For what it's worth, the average ABV of RateBeer's best 100 has stayed pretty stable over the last three years and the weighted average of all has slightly ticked up:
An increase of .03 doesn't seem like a lot, but in context of what it takes to actually move the needle - let alone as an average among 100 beers - actually feels significant. What could be the cause for the change? I feel obligated to point to previous research on rarity and authenticity. By my own biased point of view, there are roughly 10 beers on the list of 100 that a normal beer lover could find if they walked into a bottle shop at the right time of the day.
While we get the inclusion of Bell's Hopslam and Founders Backwoods Bastard, there are also beers like Bottle Logic Fundamental Observation, made from an imperial stout blend that was aged in four different whiskey barrels, and Central Waters Ardea Insignis Imperial Stout, described by the brewery as "the rarest barrel-aged beer we have ever made."
For every Westvleteren 12, often regarded as one of the best beers in the world and the recipient of 3,738 reviews on RateBeer, we also have something like Tree House Jjjuliusss, which was a top-25 rated beer, yet only reviewed 16 times, perhaps because of its severely limited availability. If anything, I'd say this is more circumstantial (if not actual) evidence to support theories around rarity, style and perception of quality.
In essence, what this does it put greater emphasis on limited release imperial stouts, IPAs and double IPAs, all of which made up a combined 60% of the 2016 list of best beers. Of the 100 total beers, 41 were repeats from the 2015 list. Most stayed at the same rating, with two (Three Floyds Zombie Dust, Toppling Goliath Mornin' Delight) losing .01 points and 17 seeing their weighted rating increase. Thirteen of those saw an uptick of .01 points, with these four being the lone outliers:
In fact, the above list includes two of the biggest jumps in rating over the last three years. Here is the weighted rating of the biggest "movers" in that timespan:
A reasonable question to ask here is how much reputation and availability play alongside quality to impact some of these ratings. I don't think anyone would argue that they're not good beers, but the jumps seen here are pretty significant. Especially for Mornin' Delight. It's already the second-highest rated beer on RateBeer, close enough for Westy 12 to hear its footsteps.
Looking at whats inside the bottle and not on the label, connections can be pointed out by the process of which these beers were made, which include:
In all, seven beers were molded in a typical "Mexican stout" recipe, which included pepper, chocolate and cinnamon. A popular recipe in recent years for imperial stouts looking to
On the hoppy side, Citra (seven beers) and Mosaic and Galaxy (five beers) were the most cited based on actual recipe details being available.
There's still some data to explore - coming soon - but the more we explore lists like this, the more it emphasizes a growing disconnect between the beer lovers who use sites like RateBeer and, well, everyone else.
Outside of the vacuum of what RateBeer offered up this year, it's still worthwhile, if not interesting, to see where breweries see their creativity going. The beers, styles and perceptions all add up to trends worth watching. Looking beyond the actual ability to procure beers that appear on "best of" lists, the knowledge gained from this information can still guide us toward where the industry may be headed, let alone how a brewery may think about its business in terms of gaining attention from drinkers.
It's a constantly shifting market and it's important to try and pinpoint where things may be changing.
Bryan Roth
"Don't drink to get drunk. Drink to enjoy life." - Jack Kerouac