Shortly after I had completed chemo treatment #2 it was Thanksgiving (Canadian Thanksgiving is in October).  I have always loved Thanksgiving because there always seems to be a family closeness and a relaxed atmosphere during this time.  Ok who am I kidding?!?  It's about the food.  It's always been about the food.  Turkey, mashed potatoes, gravy, pumpkin pie, etc…I love the Thanksgiving meal and look forward to it because it's such a treat and not something we have often.  This particular year, my Dad and Sheila were visiting so Sheila was going to cook the meal for us.  She is such an awesome cook that it promised to be an amazing gastronomic extravaganza.  That's a bit dramatic but you get the picture.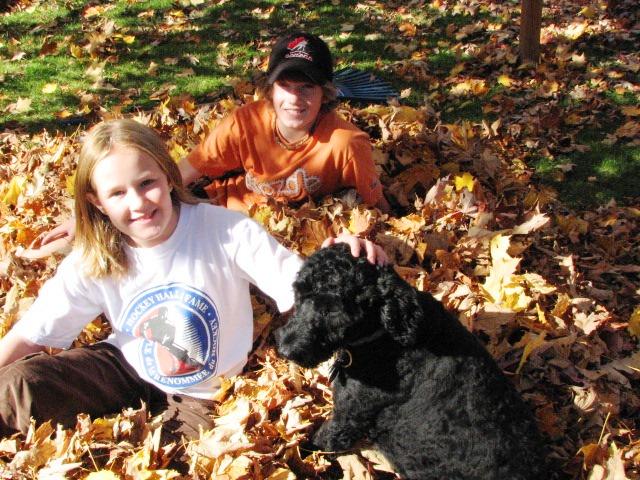 My Kids & Bailey - Thanksgiving 2007
Then a horrible thing happened to me just before Thanksgiving.  I was starting to lose my taste buds!  This is one of the side effects that I mentioned previously but why did it have to start just before turkey day?!?  Most foods I ate now had a kind of metallic, bitter or just plain nasty taste.  Some foods were just kind of bland and others just did not agree with me at all.  There were a bunch of other unpleasant side effects from the chemo that kicked in around this time as well.  I developed a horrendous case of heartburn unlike anything I have ever experienced before.  (I don't normally get heartburn except for when I was pregnant and I carried an industrial size bottle of Tums with me everywhere I went.)  This time it was even worse and it kept me up at night.  I had to sleep sitting up.  On top of that, I had some brutal mouth sores that had multiplied quickly and were really unpleasant.  I had to be very careful about what I ate and had to ensure that I didn't eat anything with sharp edges like potato chips that could scratch or irritate the inside of my mouth.  I also had to avoid alcohol and anything that was spicy, hot, or acidic.  These mouth sores affected what I could eat, drink, chew, swallow and also how I talked.  Plus they hurt and were uncomfortable.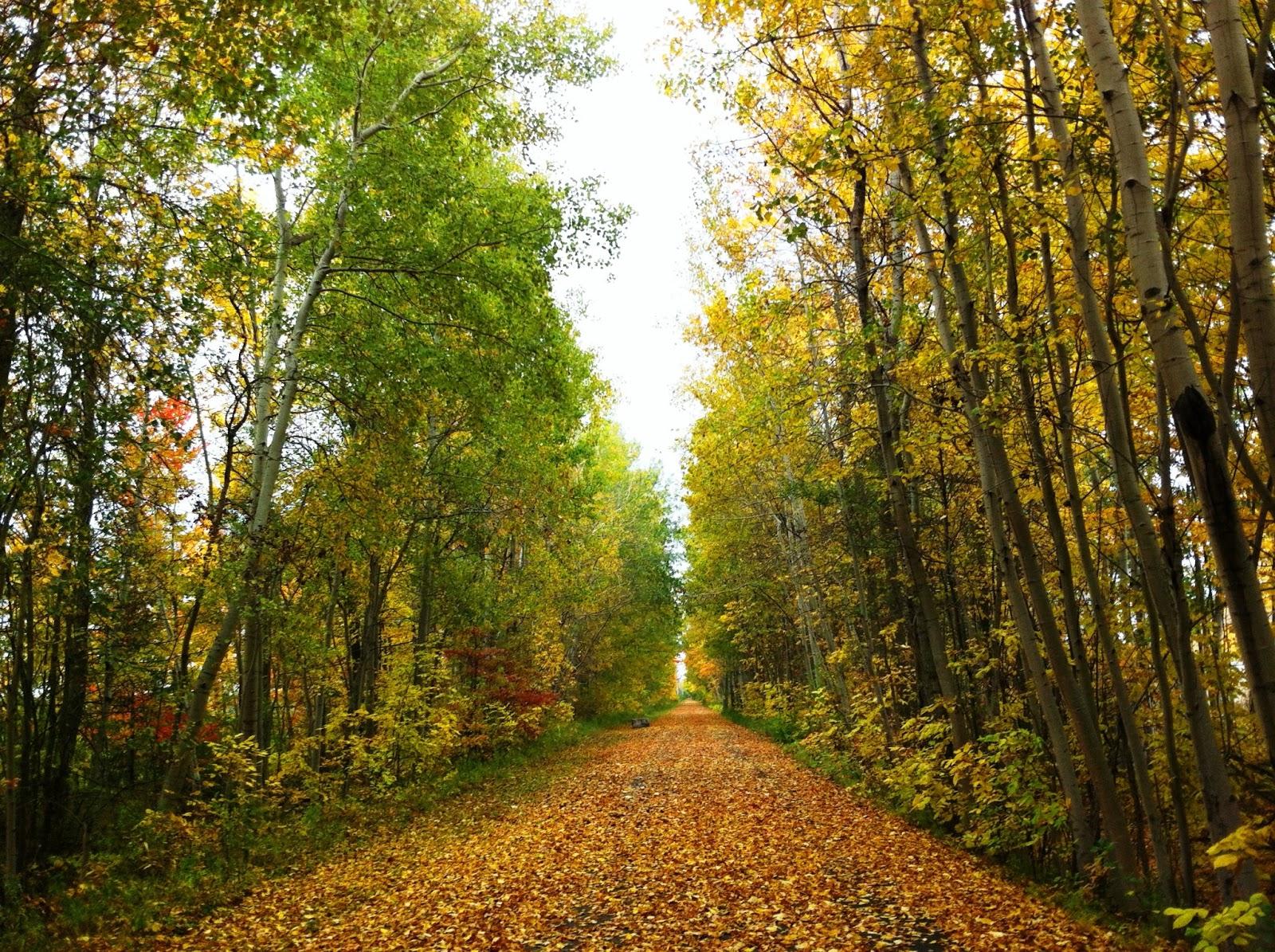 A Favorite Walking Path - Fall 2012
I got some great advice from my sister-in-law's Mom, Marie, who had gone through this too.  She recommended eating cantaloupe.  It is soft, cold and has a bonus of being quite healthy.  I think I ate nothing but cantaloupe for a few weeks.  I know that eating well and being active and following good nutrition were important, however, it was getting more and more difficult to maintain.  Sometimes the foods that tasted good were not the healthiest choice and often my energy levels were low so I didn't feel like doing anything much in the way of exercise.  Other days I was fine.  One thing I know is that I am thankful for the cantaloupe tip from Marie.
So anyway back to Thanksgiving, I sat down to this wonderful looking Thanksgiving Day meal and couldn't really taste the food.  However, I ate it anyway.  That just sucked.  Everyone else was really enjoying it and I was totally faking it.  That night I ended up with such bad heartburn (probably from the gravy) that I thought I was having a heart attack.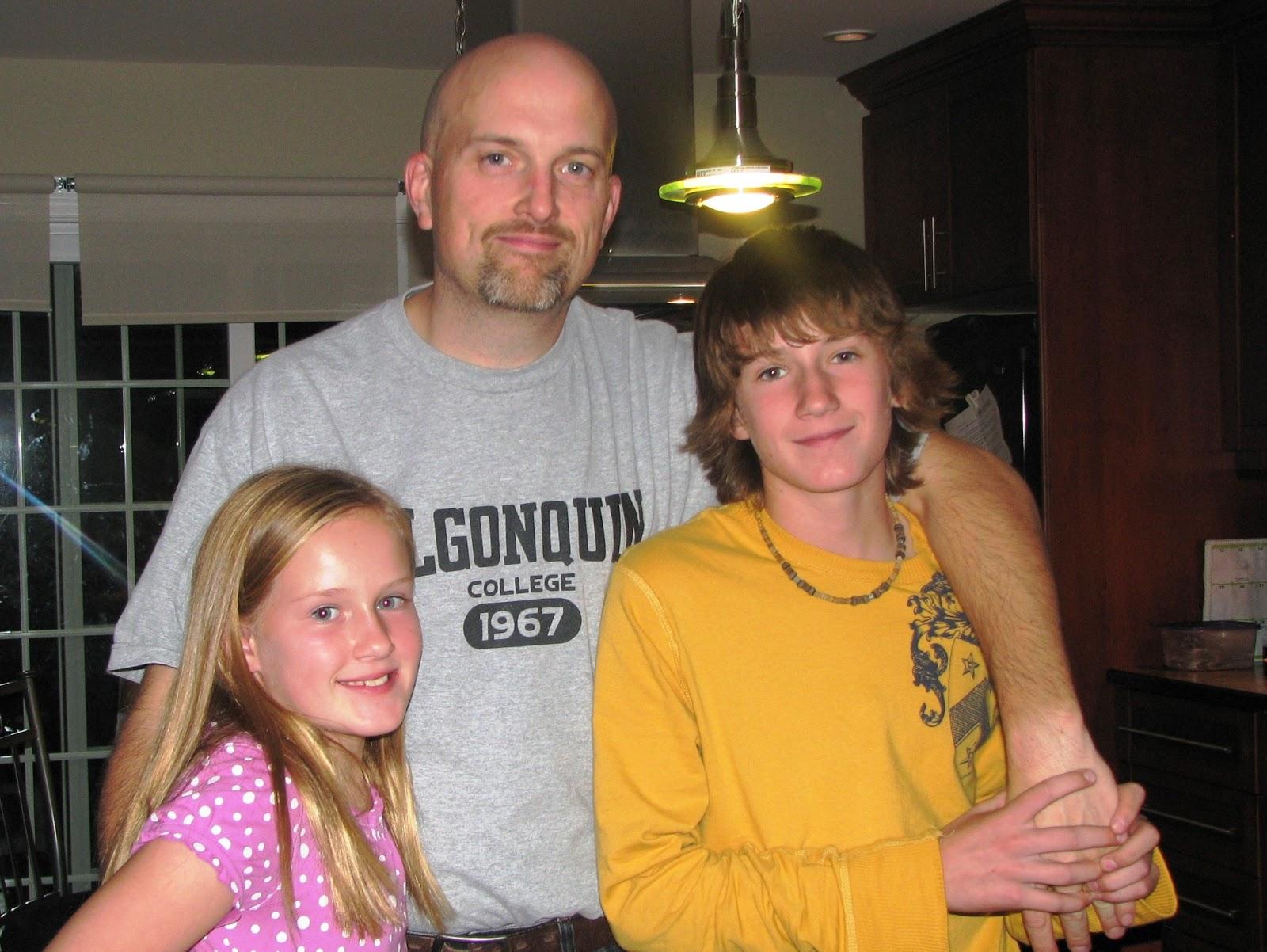 Mike & the Kids - Thanksgiving 2008
I ended up having to call the nurse on call to get a prescription for something to help with the heartburn and the mouth sores.  They faxed a prescription to the pharmacy near my house and I was able to get some medication to take for the heartburn and two different rinses that I had to alternate for the mouth sores.  One was really awful to take and the other was worse.  Like liquid chalk.  However, if this was going to help then I would certainly take the meds and do whatever I had to do to get rid of the mouth sores.  So it was chemo for the cancer, medications to combat the nausea from the chemo, various side effects caused by the chemo that then needed more medications that also had their own side effects.  It was crazy.  The cost of these prescriptions was a small fortune.  Thankfully we had health insurance.
I kept repeating to myself, "It's not forever, it's just for now."  Future Thanksgivings would surely be better. 
Hungry Like the Wolf - Duran Duran
Thanks for reading!  Please share with one of the options below.  Want to get future blog updates?  Sign up on the right side of this blog.  Have a comment, some feedback or a question??  Please let me know in the space below.  Have a pleasant day everyone!