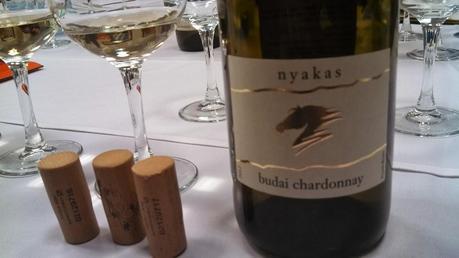 One of the wines we tasted while learning about oxygen management during my trip to Nomacorc was 2012 Nyakas Budai Chardonnay.  I immediately noticed this Hungarian producer because many of their wines are available in the Washington D.C. market. The winery focuses exclusively on white wines and is located in the northern part of the Etyek-Buda wine region. This is a newer regional designation with the Buda inscription reference the rolling Buda hills with the regional spreading westward towards the settlement of Etyek, only 19 miles from the capital city.
The region's wine making history is quite fascinating. It is speculated that Romans planted grapes along the Buda Hills, but the first documented evidence starts in the 13th century when Serbian immigrants arrived, having been chased from their land by the Ottomans, and planted red varieties, probably

Prokupac and

Kadarka. At the time, the Buda wine region flowed along the Danube from

Szentendre to Tétény. The Ottomans eventually reached Buda and Pest in the early to mid 1500s and ruled for a 150 years. Once the Turks were expelled, German immigrants were imported to resettle the area and they brought along many white grape varieties. After the

phylloxera epidemic, many of these vines were replanted and their success led

József Törley to establish his sparkling wine Törley House in the region. Other factors, of course, include the chalk and limestone soils as well as sharing the same latitude as Champagne. The Budafok sub-region now accounts for 70 percent of Hungary's sparkling wine production.
The rest of contemporary Etyek-Buda is comprised of boutique wineries, mostly small family plots, and because of it's proximity to Budapest, wine tourism is a growing industry. White wines still dominate: Irsai Olivér, Olaszrizling (Welschriesling), Szurkebarat (Pinot gris), Zold Veltelini (Grüner Veltliner), Rizlingszilvani (Müller-Thurgau), Chardonnay, and Sauvignon Blanc. Although not common, some red grapes are planted, particularly the indigenous Kadarka and Pinot Noir.
Getting back to Nyakas, I've tried many of their wines in the past. The Chardonnay was tasted at Nomacorc imparted different sensations based on the corc used - but the flavor itself was very reminiscent of the Chardonnay grape. Their Sauvignon Blanc was very kiwi-ish in the sense of lemon grass flavors with nice acidity. I always enjoyed their Irsai Olivér and Müller-Thurgau with the former portraying that muscat aroma and the later a nice young wine.
So if you find yourself in Budapest, head West into the hills to enjoy some whites and sparkling wine. Here's a video to give you an idea of the land - and a chance to learn Hungarian. Cheers.