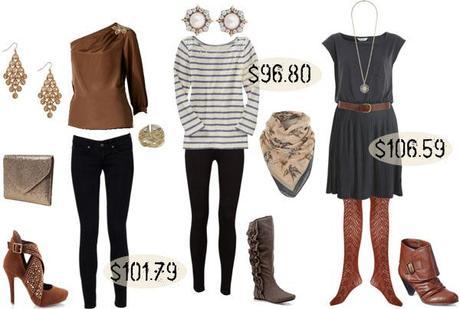 I love getting fabby-fab emails from readers. Especially if they contain an idea or suggestion for a post (because no matter how much you love writing, some days you will struggle with a topic). This time a reader gave me a real challenge—-find outfits for around $100.00 for *everything*. This actually took me longer than I thought it would (mostly because I love a nice $60+ pair of boots)—but also because I wanted to find outfits that would not only be cute for winter—but had pieces that could be repurposed throughout the Spring and Summer as well. So, without further ado:
Outfit 1, Holiday Sophistication:
Kohl's Jennifer Lopez Asymmetrical Top ($21.60), Kohl's Elle Skinny Jean ($27.99), Forever21 Tiered Rhinestone Earring ($5.80), Forever21 Lame' Clutch ($12.80), Forever21 Woven Cuff Bracelet ($4.80), Liliana Jamsie Studded Stiletto ($28.80).
Outfit 2, Comfy & Cozy:
Forever21 Socialite Studs ($4.80), Old Nacy Striped & Sequined ($18.00), Miss Selfridge Bird Print Scarf ($25.00), Kohl's SO Lace-trimmed Leggings ($9.00), DSW Fergalicious Tossle Too Boot ($40.00).
Outfit 3, Winter Worker:
Forever21 Filigree Clock Necklace ($8.80), Miss Selfridge Gray Pleated Dress ($50.00), Forever21 Diamond Knit Tights ($7.80), Worthington A.n.a. Bootie ($39.99).