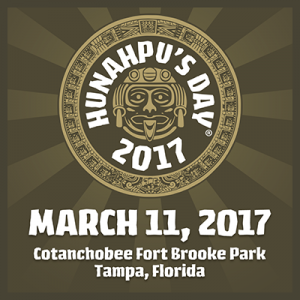 Back in 2010, Hunahpu's Imperial Stout made its debut in the beer scene. The decadent stout aged on cacao nibs, Madagascar vanilla beans, ancho chilies, pasilla chilies and cinnamon garnered Cigar City a gold medal at the 2010 and 2011 U.S. Open Beer Championships catapulting it to the national beer scene's attention.
In that first year, Hunahpu's release day was a relatively small event held in the brewery tap room. Several hundred beer-lovers gathered to taste and purchase bottles of the beer with little fanfare. But, as word of the beer spread through the beer community, demand began to grow. The beer became a hot commodity on many beer trading websites and, as bottles became more scarce, demand grew to a fever pitch.
Taking notice of the demand for the beer, the brewery planned a bigger event for the second release date. Dubbed Hunahpu's Day, in 2011 guest breweries were invited to bring their rare and specialty beers, set up tents and offer tastes of their beers on a pay-per-pour basis. Crowds were heavy, but manageable. Except for a few scuffles over line position, the event went well enough for Cigar City to plan the same type of event for the next year.
By 2013, the hype of Hunahpu's Day had built to such a level that hundreds – perhaps thousands — of beer aficionados queued up to get their allotment of the brew. The line was so long that the line ran several blocks up the street from the brewery and into a nearby shopping center parking lot. Rabid fans began lining up as early as 8:00 p.m. the night before, camping out at the gates of the brewery in order to be one of the first to sample the cornucopia of rare beers brought by breweries from all over the country. Many brought coolers and shared beer as a way to whittle away at the time.
Complaints of long lines began within the first hour or so of the event. Crowds crushed in to lines at the most popular tents creating waits of more than an hour. Often, unscrupulous guests would cut the line and walk right up to the front much to the ire of those who had been waiting in the hot Florida sun. To make matters worse, a staffing agency had been hired to provide servers who had no training on how to pour beer causing even longer waits.
After the event was over, it was estimated 9,000 guests passed through the gates at Cigar City leaving over-flowing port-a-lets, mounds of trash and myriad complaints from guest who were unable to get beers they had set their minds on drinking. But, due to some quick thinking by Cigar City owner, Joey Redner who reduced bottle purchase limits from three per person to two, anyone who wanted a bottle of Hunahpu's was able to purchase one.
The massive crowds of the past led Redner and Cigar City Brewing President Toni Derby to change the format to a ticketed event in 2014. It was also decided that the event would be limited to 3,500 attendees. Ticket holders were entitled to unlimited tastes of guest beers and guaranteed an opportunity to purchase an allotment of three bottles. When the tickets went on sale on Eventbrite, they sold out in less than two hours. In theory, by limiting the number of guests, the brewery would be better able to plan for the event and insure that there would be plenty of beer for everyone. Further, guests were to be issued a silver wristband upon entry that would be removed when they had purchased their bottles of beer. Guests were told that they could purchase their allotment of bottles any time during the day, but that at 4:00 p.m. remaining bottles would be available for purchase without limit.
Because of the popularity of the event in the past and the speed at which tickets sold out, a lively secondary market for ticket sales popped up on other online outlets such as Craigslist. Since tickets purchased on Eventbrite can be printed at home, at least one – and likely several – purchasers made copies of tickets and sold the copies online. As the counterfeit tickets began appearing at the festival gates, arguments between duped guests and ticket-takers broke out. The line to get into the event began to grow and tempers flared. A snap decision was made to open the gates to everyone. The influx of bodies filled the brewery parking lot to capacity and beer lines grew longer and longer.
Then, at 4:00 p.m. when open bottle sales began the crowd shifted from the tasting lines to the purchase lines. Thousands crowded in, vying to get extra bottles.  Many purchased the 22-ounce bottles in cases of 12. But, as the feeding frenzy escalated, it became apparent that there were many guests who still had their silver wristbands and had not been able to purchase their promised three bottles. Clashes broke out between those buying extra bottles and those trying to get their allotment.
By 5:00 p.m. the bottles sold out. Redner, looking frazzled, put his hands into the air and announced that there were no more bottles to sell and police officers moved in to close the metal bay doors. The crowd became even more agitated with several banging on the doors others chanting, "Cigar City sucks!" To many caught in the middle of the crowd, it looked as if a riot could break out.
In the end, the festival was concluded early and, as the dust settled, Redner made an apology and a promise to get Hunahpu's to any who did not get their allotment. Later, in a statement, he said, "I am acknowledging defeat. That was the last Hunahpu's Day. The beer will go into distribution next year and hopefully spread out among many accounts, it will get to consumers more fairly."
But, though it looked as if Hunahpu's Day would never happen again, Cigar City surprised consumers and announced that there would indeed be a Hunahpu's Day 2015. But, the event would be a strictly controlled, ticketed event limited to 2,000 attendees with a ticket price of $200. Each ticket included four bottles of Hunahpu's to be handed out as guests left the festival. They also included food and unlimited tastings of guest beers.
The event went off without a hitch.
Then, in 2016, the brewery decided to take its show on the road and hold the event at Cotanchobee Fort Brooke Park on Tampa's waterfront. The change of venue allowed the event to stretch out a bit and kept it from feeling so crowded. It also allowed the event to grow to include more brewers and that meant more exceptional beers to taste.
This year, Cigar City's Hunahpu's Day will once again occupy Cotanchobee Fort Brooke Park with even more brewers than 2016. The lineup includes such luminaries in the brewing business as Anderson Valley, Black Project, Crooked Stave, Firestone Walker, Fremont and Toppling Goliath. In addition, there are 16 breweries from 13 different countries as far flung as Russia, New Zealand and Sweden that will afford beer lovers tastes of beers they may never otherwise be able to try.
The 2017 edition if Hunahpu's Day takes place Saturday, March 11 from 11:00 a.m. to 4:00 p.m. at Cotanchobee Fort Brooke Park, 601 Old Water St., Tampa, Fla.
Cigar City advises all attendees to plan on taking Uber to the event.
Advertisements