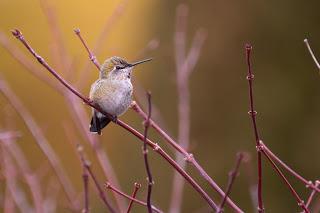 A HUMMINGBIRDS arrived at Richmond, BC, Canada ?


Friday, January 14, 2011

. Outside is a r

a

in

y and glumly day. The sky is covered with low,

leaden clouds. I'm seating and looking at my monitor, which just a few seconds ago burned out.

Ok... No internet and no processing of photos for a few days … life are getting boring.

I'm taking my cigarette and going to the patio for a smoke. (I know it's stupid, but…)

So, I come out to the patio and I see a hummingbird on my hummingbird feeder!

I'm going back, taking my camera – the show begins.

I know I can't make a good image but I can't lose that chance!

A Hummingbird in January?

No way!  

Let me ask you a something: What is that? A new arrival?  An

winter

abundant ?

A number of books point out that Anna's Hummingbird is wintering in the

Vancouver

area, but I never saw them before. And it's defiantly Anna's Hummingbird.

What do you think?