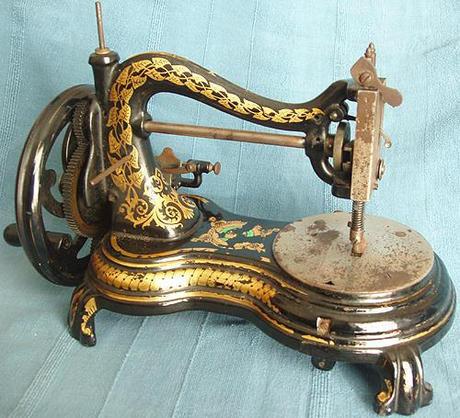 One of the first sewing machines
June 13, is /was National Sewing Machine Day. It seemed to slip by us, dear readers. But, we're in luck! There also seems to be another National Sewing Day in August. But, whatever the day, let's just say we'll celebrate our sewing machines from today until August! Go ahead, hug your Husqvarna. Snuggle your Singer. Bow to your Bernina. And exalt your Elna!
The First Sewing Machine Patent, Then A Riot
The first patent for a complete sewing machine was issued in 1790 to English inventor and cabinet maker, Thomas Saint. The patent was for an awl that punched a whole in leather and passed a needle through the whole. Although issued a patent, a later reproduction based on Saint's patent drawings did not work.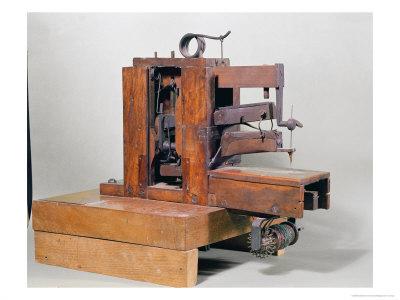 It wasn't until 1830 that the first functional sewing machine was made. And it was met with a mob riot! Inventor and French tailor, Barthelemy Thimonnier was almost killed by an enraged group of French tailors who burnt down his garment factory because they feared unemployment as a result of his new invention. Wow, so much for wanting progress.
"Sewing machines did not go into mass production until the 1850′s, when Isaac Singer built the first commercially successful machine. Singer built the first sewing machine where the needle moved up and down rather than the side-to-side and the needle was powered by a foot treadle. Previous machines were all hand-cranked. However, Isaac Singer's machine used the same lockstitch that (Elias) Howe had patented. Elias Howe sued Isaac Singer for patent infringement and won in 1854." Source: Stitches — The Birth of the Sewing Machine
Read about the beginnings of Bernina on the Bernina blog.
Birth Of The Serger
"Overlock stitching was invented by the Merrow Machine Company in 1881.
J. Makens Merrow and his son Joseph Merrow, who owned a knitting mill established in Connecticut in 1838, developed a number of technological advancements to be used in the mill's operations. Merrow's first patent was a machine for crochet stitching. Merrow still produces crochet machines based on this original model." Source: Wikipedia
You've Come A Long Way, Baby!
If you read our earlier blog post about today's sewing machines having USB ports and hi-resolution screens, you'll be just as amazed as we are to think about how far sewing machines have come. So, the saying of "a stitch in time, save nine" might need to be updated with more than saving nine stitches. 
Where can sewing machines go from here? Will they ever be able to get a precise 1/4″ seam without tweaking? Will sewing machines of the future be able to self-guide through curves? Or will they get simpler? Ask today's designers to look into the future and they have pretty unique designs.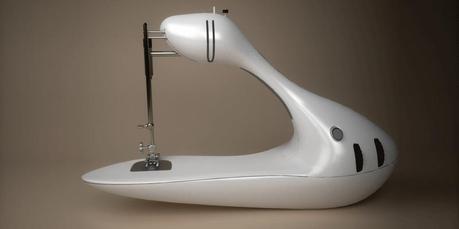 Sewing Machine Design by Brian Kang
Universal Truth of Sewing Machines
Regardless of what new features sewing machines will have or what they will look like or how far we've come, I'm pretty sure there will be one constant between the sewing machine and the sewist: Some days the machine just says "ptooey!" to your fabric. Happy Sewing Machine Day…Month…Happy Sewing!