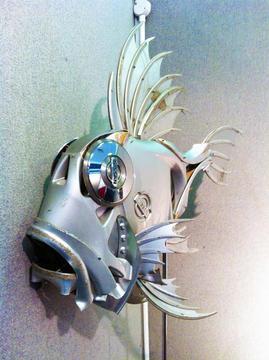 PTOLEMY ELRINGTON has been making art from waste for the past twelve years, and has become well known for the Hubcap Creatures he sculpts in his workshop in Brighton. They are made from all kinds of waste material manipulated into shape, and have all kinds of interesting characteristics as a result: Ptolemy's fish are made from hubcaps, and have eyes made from circular car badges.
(We first met Ptolemy last year. You can watch our old video interview here – you'll find it towards the bottom of the article.)
"There's an inherent message in my work relating to recycling and the nature of value, but my artistic inspiration is fired by the qualities within the raw materials… I come across many things which have been abandoned and find something more in them than their intrinsic worthlessness."
– Ptolemy Elrington, about the spirit of his Hubcap Creatures.
---
Q&A with Ptolemy Elrington
Hello Ptolemy. Who buys your creatures?
All sorts of people from all walks of life. I've sold to millionaires and to people who have paid in instalments. I've sold to teenagers and to grandma's, companies, musicians and a racing driver. So all sorts really...
Do you have a favourite, or most accomplished sculpture?
I have a few - an owl I recently sadly sold to Ripley's, a Samurai and Geisha recently bought by Ernst&Young, a Baboon Skeleton on display at Eddies sculpture park in Churt, and two fish in my private collection - A Mirror Carp and an Archerfish. Oh, and I also had a Rockfish but that got stolen from the Start Garden Party at St James Palace on the Mall.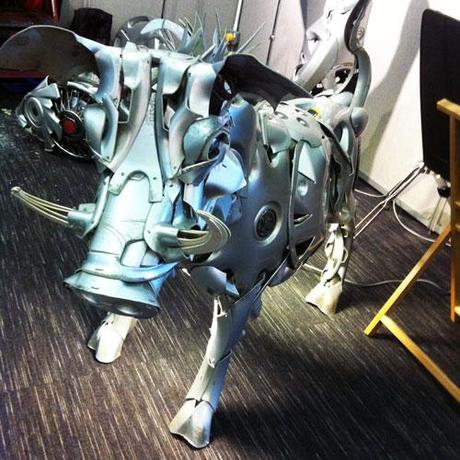 What's the quickest and longest time you've taken to make a Hubcap Creature?
Quickest is a day, longest is about three months. That was a giant festival dragon which now has a flame thrower installed.

How did you start making these things?

A hobby that developed into a career as I grew more proficient and confident. Anything to keep away from a regular day job. :)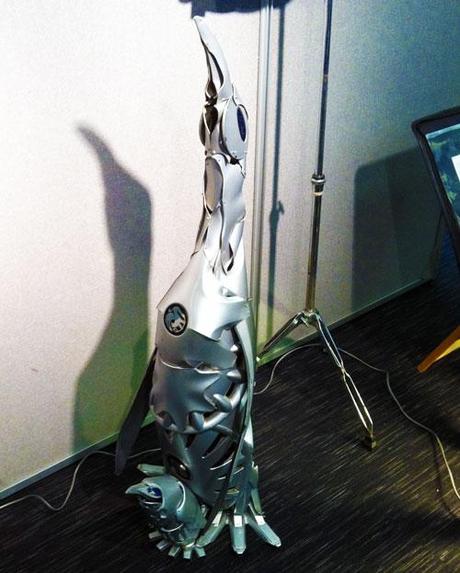 "I often prefer the shapes within the raw materials to 'do their thing', as this makes it movre interesting for me. Sometimes a piece of hubcap fits in such a way that the shark becomes almost alive in my hands, climbing, twisting or just hanging motionless and predatory, and this gives me a buzz. It makes me feel like a vehicle for the creation process rather than a controller, and not knowing the exact outcome is exciting."
- Ptolemy Elrington, on being a maker.
How many hours each day do you work?

At the moment I'm working a steady twelve hour day finishing a commission for Ecover in time for the Glastonbury Festival, but usually an eight hour day on average.
For me it's about anti-purpose: using things in an unexpected way, but what is it about rubbish that inspires creativity in you?

The shapes and colours. There's an inherent message in my work relating to recycling and the nature of value, but my artistic inspiration is fired by the qualities within the raw materials.
What would be your ideal commission?

Difficult one to answer..I think ...ummm... a hubcap on a wall for a million pounds? No..I don't really have an answer for that one.
Have you ever made a self-portrait?

Nope - too busy with the fish.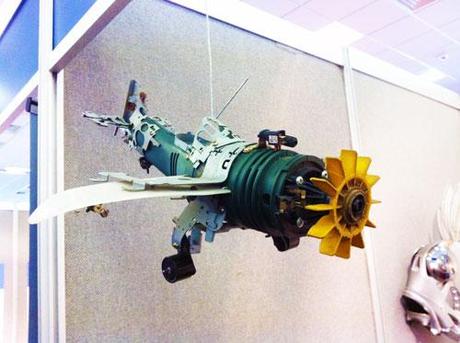 What would be your ideal building material? In other words, if NASA were having a garage sale, would you turn up?

Anything that fires me up is cool. I like to be challenged but on the whole I prefer metal and plastics. An old jet fighter would be very cool..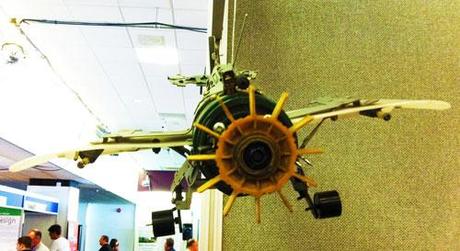 Above: The airplane fuselage was made from a strimmer, and the wings have come from an old apple mac laptop lid split into two. The rest of it are made from bits of an old VCR and an old car fan...
Do you accept donated scrap from strangers?

Yes all the time. I've had quite a few people get in contact with a few bags of hubcaps for me. I love it when they think of that rather than the skip.
Thank you Ptolemy for putting up with me hanging around your stand and asking you all these questions! You should visit Ptolemy's Hubcap Creatures website to see more of his art, and follow him on Facebook .