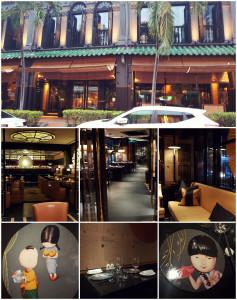 Guys, you know how crazy I am with the Crazy Rich Asian lifestyle (do note that I jolly well can't afford one), but I am always in awe when the deco of a restaurant screams lux. So yesterday, I was googling my way around to find Yellow Pot. But I saw this gorgeous architecture at Duxton Road, and I just had to take a photo of it.
Mind you, I was a little running late. And me being very professional most of the time, would never, I swear never, let anything break my focus on getting to the destination. Lo and behold, Yellow Pot was nestled in this building. You can imagine, how very happy I was to know I will be dining at such a splendid place.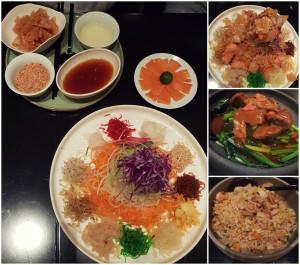 For reader who love a balanced and healthy meal, you will be happy to hear that Yellow Pot does not contain any MSG. The ingredients are also sustainably-sourced and most of the dishes contain traditional herbs that brings great benefit to your health. My lucky stars were definitely shining brightly at me that cos I got to taste the Dinner Set B (128pp)
The menu offers from left to right, top to bottom:
King Ora Salmon Yu Sheng - This is seriously the best Yu Sheng I ever had. The crunchy jellyfish and crispy gold crackers were particularly delicious. I am not entirely sure what the "gold" was made of, but it sure tasted super awesome.
Poached Spinach with Braised Bailing Mushroom and Sun-dried Oyster - This is quite a traditional Chinese dish, so there isn't much element of surprise apart from the generosity of oysters. :P
Wok Fried Rice with Seafood, Crabmeat and Salted Egg Yolk - I am not presenting the food in the order it was served. This was the second last dish. By the time it was served, I was already extremely full. You can't really taste the salted egg yolk in this. But I am kinda of way over the egg yolk craze so part of me was secretly please we could taste the sweetness of the seafood instead. 


Here are some of the yummy highlights (from left to right):

Yellow Pot Roast Duck - I love the skin of the roasted duck. The meat, however was a little too tough for my liking. But then I realised that you shouldn't eat it without the plum sauce. The plum sauce is extraordinarily good - a nice blend between sweet and sour - and somewhat soften the texture of the meat. It is heavenly when consumed together.
Thorny Sea Cucumber with Abalone and Fish Maw - This fish maw surprised me a lot cos this may the first time I am seeing it un-fried. Just this dish alone (look at the size abalone) is bound to make your corporate clients very happy with the treat.
Baked Toothfish Vegetable Reduction - There was a little bit of debate on this fish cos we initially thought it was cod fish. I love fishes with tender flesh and is soft enough to literally peel (characteristic of  the codfish family)! No complaints from me on this for sure.


From left to right, top to bottom:

Double Boiled Chicken Soup with Fish Maw, Cordyceps Flower, Morel and Yellow Fungus (Tremella Frondosa) - I know this sounds a little bit spoilt of me. But I sort of had a bit of grouses on too much fungus. Obviously, no one at the table agreed with me because how is the taste going to come out if you don't spam the ingredients right?!? I think I just don't like fungus. =P
Steamed Chinese Sweet Cake and Red Tea with Sesame Glutinous Rice Dumpling - First time in my life where desserts are served in pairs. The tang yuan is kinda of normal and a little too sweet for my liking, but the handmade sweet cake is frigging good. It is so good I would just go there to tabao this home.
Dian Hong Pure Gold (S$22) - Tea isn't part of the menu. But I really need to give a shoutout to the tea selection. There are 14 varieties to choose from! I drank cups after cups and still managed to fall asleep at night. If you are ever at Yellow Pot, try some of the more uncommon tea to get the ultimate bang for your bucks!
X.O. Tiger Prawn - I don't really eat prawns cos I have allergy reaction when the prawns aint fresh. Had only one that day and woohoo no allergies. I can be certain that the prawn is fresh.
So that's it for the CNY menu, but fret not cos of these dishes are on their ala carte menu as well. I would say the price point is considered reasonable given the premium ingredients used. Plus, this place serve alcohol, it is a very good place to have another round of chat after a sumptuous meal. With that, Huat ah!