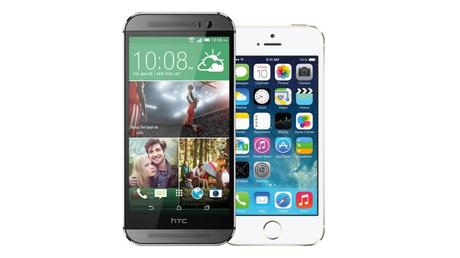 HTC has indeed rocked the market this year after launching its HTC One M8 in the market. It has been great news for the smart phone lovers who were desperately waiting for something new from HTC. The Smart phone segment is playing aggressively with every new launch that is happening in the market. The giants namely Samsung, Sony, Apple, HTC, etc… are playing a cut throat competition to prove themselves as the market leaders in this segment. The launch of HTC One M8 is being compared with Apple's iPhone 5 S.
Does that mean that HTC One M8 holds the caliber of matching its status with iPhone 5S? Can it replace iPhone 5S? In order to know about this, let us compare both the phones and explore about their features and technical specifications.
HTC One M8 V/s iPhone 5S:
1. Body: The body of HTC One M8 is similar to the metallic body of iPhone 5S. With metallic body in trend, HTC One M8 preferred to launch a heavier phone in comparison to its previous offerings. Though heavier than iPhone 5S, the HTC One M8 weighs 160 grams while iPhone 5S weighs 112 grams. With respect to the dimension as well, the HTC One M8 is bigger than iPhone 5S. The dimension of HTC One M8 is 146.4 x 70.6 x 9.4 mm while the dimension of iPhone 5S is 123.8 x 58.6 x 7.6 mm.
2. Display: HTC One M8 has tried its level best to come up with a powerful display in comparison to iPhone 5S and other smart phones in market. HTC has a Super LCD3 display capacitive touchscreen which makes it superior to LED Backlit IPS LCD which is in iPhone 5S. The screen size of HTC One M8 is 5 inches while that of iPhone is 4 inches. The pixel size in HTC One M8 is 1080 x 1920 pixels while in iPhone 5S it is 640 x 1136 pixels. Both the phones are multi touch. The display of HTC One M8 is bright and glowing in comparison to iPhone 5S.
3. Memory: HTC One M8 has an advantage over iPhone 5S with respect to memory. HTC One M8 has a card slot which can equip microSD card of up to 128 GB memory. However there is no card slot in Apple iPhone 5S. The internal memory in HTC One M8 is 16 and 32 GB while in iPhone it is 16, 32 and 64 GB internal memory. The RAM in HTC is of 2GB while in iPhone it is 1 GB.
4. Operating System: HTC One M8 is equipped with the latest version of Android OS 4.4.2 Kitkat version. The chipset is Qualcomm Snapdragon 801. Apple has its own OS in its smart Phones namely iOS 7 which can be upgraded to iOS 7.1.
5. Battery and Battery Life: HTC One M8 succeeds iPhone 5S with respect to battery and its life. HTC One M8 has Non-removable Li-Po 2600 mAh battery while iPhone 5 S has Non-removable Li-Po 1560 mAh battery (5.92 Wh). Li – Po 2600 is superior to Li – Po 1560. The battery in HTC One M8 supports 14 to 20 hours of talk time while in iPhone the battery life is up to 10 hours which makes it to be a disappointing factor amongst the users.