Have you encountered taking Mandarin language courses already? How do you find it? Have you found it challenging? Difficult? Enjoyable? Tiring?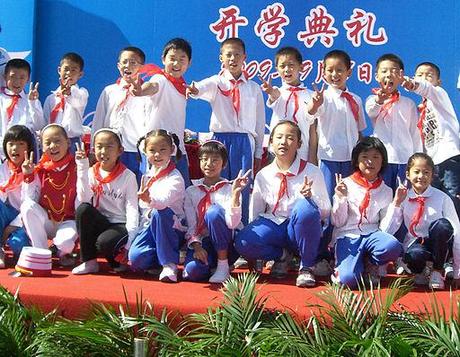 Young Pioneers of China (Photo credit: Wikipedia)
I took the following statements of students who actually have authentic Chinese learning experiences by taking language courses. Let's take a closer look below:
"The amount of hours I spent in one-on-one classes was critical to improving my Chinese. Thinking and speaking Chinese in a one-on-one environment enabled me to practice confidently and to retain everything I learned."
- Jon Yu
"I think the living arrangements at [Chinese language school] are the most important aspect of the program. In addition to sharing a home with many Chinese natives, living in Guilin gives students the opportunity to meet others and totally immerse themselves into the Chinese culture. CLI is definitely a special place."
- Kandice Purdy
"While in groups, it is very difficult to give every person the amount of direct speaking, listening, and correction needed to learn any language beyond its most basic level.  There is no need to fear not speaking enough at [Chinese language school], as their classes place a lot of emphasis on speaking and listening."
- David Chang
"[Chinese language school], is like a big family that supports you with great effort from the moment you arrive. [Chinese language school],'s staff members truly provide a world class education and make you feel at home through the warmth of their presence."
- Lea Parizot
I omitted the proper name of the specific language school mentioned in the testimonial for ethical reasons. Nevertheless, the quoted testimonials serve as inspirations to future learners who are willing to study abroad programs in china in a language school, isn't it?