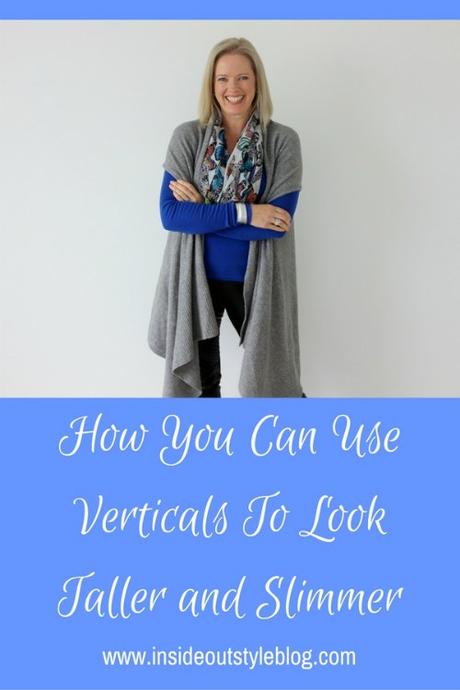 As I discussed in this post on my Three Rules of Horizontal Lines, line in clothing design creates optical illusions depending on the direction of the line.
Verticals lengthen.  Partly because they go up and down (giving height) but also becasue our eyes move along them more quickly than they do on horizontal or curved lines.
So where to look for vertical lines in clothes?  I say everywhere!
You will find them on jacket openings, shirts with buttons going up the centre, creases down the center of your dress trousers, princess seams, gores and vertical darts.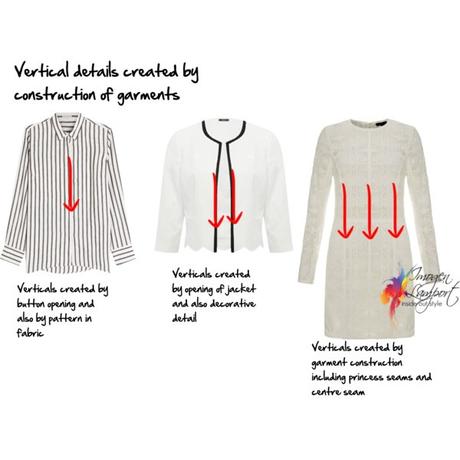 Because verticals elongate, they also slim, so if you want to create a longer or leaner line, think about ensuring there are verticals in your outfit (it's possible to wear an outfit with no verticals, as most garments are horizontally dominant).  If there are not extra horizontals, why not wear a column of color to create a long vertical line of color in your outfit.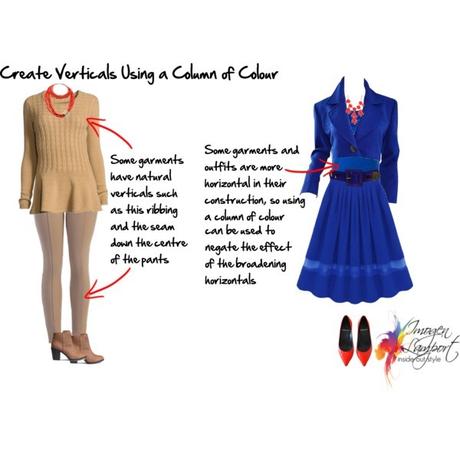 Where to Look For Vertical Detail in Garments
Vertical details are great to add to:
Your shorter proportions – so short legs – add vertical details, short body – add vertical detail etc.
Where you want to look slimmer
All over if you want to look taller
You will discover in my Body Shape Bibles that for each body shape there are ideal areas to add verticals (and also where to put your horizontals).
If you haven't done the quiz and downloaded, check it out now.
So next time you're deciding whether or not to try that garment on, have a look for some vertical details to create some extra elongation before you take it into the change room (and don't forget to also check for the horizontal details too).
Want more tips on elongating with verticals?  Check out E is for Elongation now.